XCMG launches 700-tonne excavator
By Andy Brown11 April 2018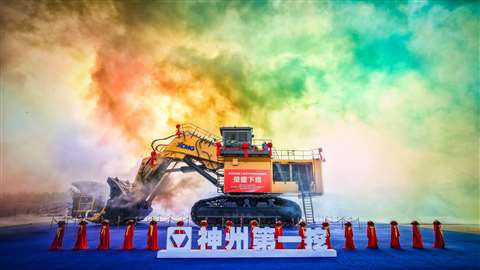 China-based company XCMG has launched a 700-tonne hydraulic excavator. Said by the company to be China's largest excavator, the machine has an overall length of 23.5m.
With the bucket width of 5m and bucket capacity of 34m3, the bucket can dig more than 50 tonnes of coal each time. The leveraging maximum thrust pressure is 243 tonnes and stick digging force is 230 tonnes.
According to XCMG, the hydraulic excavator adopts many exclusive technologies. These include a dual-power assembly coupling control system, high pressure system intelligent monitoring and fault self-diagnosis technology, modularisation dual-power hydraulic driving system, and an auto-oil supply self-adaptive chassis tension system.
The company say that the launch of the machine means that China has become the fourth country to produce a hydraulic excavator of 700 tonnes and above, after Germany, Japan and America.