XCMG robots complete highway project
By Mike Hayes18 October 2021
'Largest unmanned road construction fleet ever seen' resurfaces one of China's busiest roads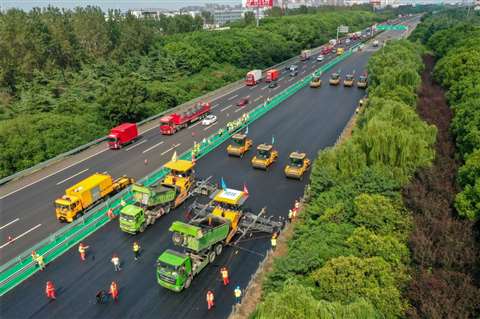 The world's 'largest ever' autonomous road construction fleet has been deployed to complete a maintenance project on China's busy Nanjing-Shanghai expressway.
Chinese construction equipment giant XCMG put ten autonomous tandem rollers and two unmanned large-width pavers to work on the resurfacing project, with the fleet controlled by the BeiDou satellite positioning reference station. Unlike GPS, China's BeiDou system uses an array of satellites in geostationary earth orbit to offer accurate navigational control.
On the Nanjing-Shanghai road project, Jiangsu Xiandai Road & Bridge Company used the technology to allow the machines to drive, steer and roll autonomously, also utilising inertial navigation and obstacle recognition technology.
Additionally, the rollers employed XCMG's exclusive continuous asphalt thickness measurement radar technology, enabling measurement of surface thickness to a depth of 120mm and with an accuracy of plus or minus 1mm.
Li Xin, aGM of Jiangsu Xiandai Road & Bridge Company, said, "The inspection pass rate is much higher than that of traditional manual construction, and XCMG's unmanned technologies have excelled in construction efficiency and control accuracy."
Lige Xue, and R&D engineer with XCMG, said, "With intelligent sensing and control, digital construction and unmanned technology as the core, XCMG is dedicated to providing customised, high-quality intelligent solutions for customers."