APEX 2017 Show Guide: Access only
By Euan Youdale01 May 2017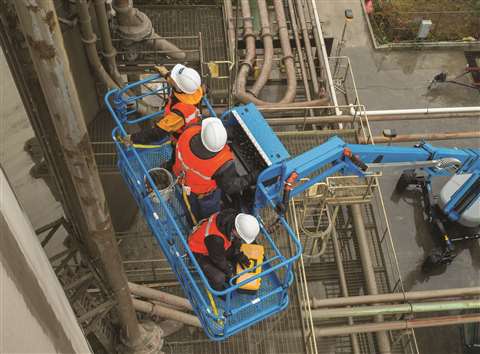 It's been three years since the last APEX show opened its doors in Amsterdam for the first time – previous editions of the exhibition had been held in Maastricht. The 2017 instalment is set to be one of the most successful in the event's history. Apart from selling out of exhibitor space many months in advance, the show is also offering a considerable number of product launches.
As well as producers from the established markets, eight Chinese aerial platform manufacturers are also attending, which is a record for APEX and indicative of the recent growth in the Chinese aerial platform market.
In fact, almost all the top manufacturers of access equipment will be present at APEX, along with used equipment specialists, rental software companies and other suppliers of ancillary products and services.
The show is supported by Access International and the International Powered Access Federation (IPAF) and is organised by Industrial Promotions International BV (IPI).
Talking point
One of the biggest talking points ahead of the show is JCB's presence with its new range of access equipment. Not to arouse suspicion concerning its plans to enter the sector, the manufacturer's stand was booked in the International Rental Exhibition (IRE), which is taking place next door to APEX at the same time. The manufacturer will a range of its construction equipment, as well as two products from JCB Access. One of them is the 50ft working height AJ50D articulated boom, launched at ConExpo, and the other is the S2032, from its scissor line launched in the UK in February. The pair are part of the first batch of 27 platforms to be launched this year consisting of nine electric scissors from 15ft (4.6m) to 45ft (13.8m) platform height. They are just the beginning, however, with five articulating booms – four diesel and one electric - from 49 ft (14.9m) to 81ft (24.6m) platform height following over the next few months, plus 10 diesel telescopic booms from 67ft (20.6m) to 136ft (41.6m). The 50ft diesel-powered articulated AJ50D is powered by a Tier 4 Final JCB Diesel by Kohler engine, as are the remaining articulated and all telescopic platforms. Load capacities range from 500-550 pounds (227-250kg), enough for two occupants and tools.
"We have designed a global product," says JCB Access managing director Richard Butler, "What has probably helped us, is the [European] EN 280 standard and [US] ANSI standard are coming together. They won't be quite the same, but the standards will be very close."
Global View
The trend towards global products will also be demonstrated by Genie at APEX. On display will be several new Xtra Capacity (XC) booms; the hybrid Genie Z-60/37FE fuel-electric articulating boom, the all-electric Genie Z-33/18 articulating boom and a compact Genie GTH telehandler. The Xtra Capacity family complies with the overload restriction guidelines in the proposed ANSI A92 and CSA B354 industry standards in North America, as well as the current European EN280 and Australian AS 1418.10 standards. The XC models can work with an unrestricted 300 kg (660 pound) capacity, or a restricted 454 kg (1000 pound) capacity, while still leaving room for tools and jobsite materials.
"Our Xtra Capacity, electric and hybrid products have all been specifically designed to add value to the end-user experience, increase customer return on investment by expanding their utilisation, as well as reducing total ownership cost. We are confident that they combine the benefits that customers need to anticipate new challenges and look forward to the future with confidence," says Adam Hailey, director product management, Terex AWP. Focusing on safety, Genie will also be featuring its new generation of secondary operator protection with the new Lift Guard Contact Alarm and Fall Arrest Bar.
First Showing
Skyjack will be displaying its newest articulating boom, the SJ85 AJ for the first time in Europe. The boom is the largest of Skyjack's articulating booms and features all of the same design elements that made the SJ63 AJ popular.
"We've gone one step further with this new articulating boom," said Corey Connolly, product manager at Skyjack. "Having a large unit with exceptional up-and-over clearance to complement the great working height and horizontal reach will allow operators the ability to complete many tasks across all kinds of applications."
The SJ85 AJ features 85ft (25.9 m) platform height and working height of 92ft (27.9 m), horizontal outreach of 56ft (17.07 m), up-and-over clearance of 34 ft (10.36 m) and dual capacity rating of 750/500 pounds (340/227 kg) and 2-3 people rating, to increase productivity and jobsite performance. As with the SJ63 AJ, the SJ85 AJ has a similar open centre knuckle riser design. Skyjack will also display its full range of products, including a vertical mast lift (SJ16), four DC electric scissor lifts (SJIII 3219, SJIII3226, SJIII4632, SJIII4740), a rough terrain scissor lift (SJ6832 RTE), and two other articulating booms (SJ30 ARJE, SJ46 AJ).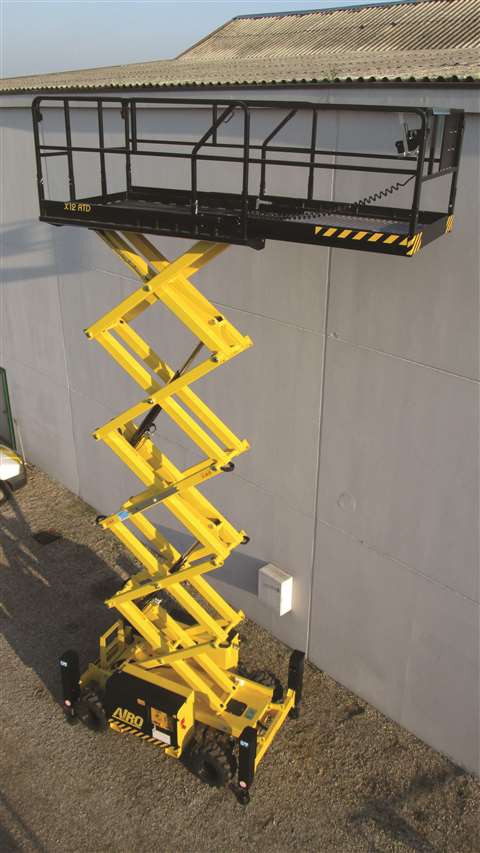 Offering new scissors on its stand will be Italy-based Airo, with the launch of the X14 RTD, a diesel scissor with 14m working height and a new electric scissor, the X14 EN, with 14m working height and 89cm width.
Along with these two new products, some of the company's most popular models, including the A15 JE electric boom and the V10 E vertical mast will be on display, both with AC drive.
In other scissor news, Holland Lift last month produced its 8000th machine, a HL-190 H20. The unit will be displayed at APEX. The HL-190 H20 includes the manufacturer's parallel hybrid technology and enjoys the easy-use technologies of Holland Lift's new modular line. After the show the lift, which has already been sold by distributor Rotator, will be delivered to its owner HRK in Finland.
Holland Lift Services, meanwhile, is the new name for its after sales division, formerly known as Servi-Tec. "Maintenance, training and after-sales is a very important topic in our service to our customers. Our division in Germany will keep its name, while they are delivering an even broader spectrum to their German customers," says Eline Oudenbroek, Holland Lift managing director.
The manufacturer prides itself in its hybrid technology. At the show will be the HLI, the parallel hybrid scissor lift series with working heights of 16m, 19m, 22m or 27.5m, with a combined diesel and electric drive. It's a 2-in-1 machine that can be used both indoors and outdoors safely and in an environmentally friendly manner.
Shown at Bauma last year for the first time was the HL-330 E14, a 33 m high and 1.4m wide narrow scissor lift which can be used for construction and maintenance work in warehouses. It too will be presented at APEX.
Fellow Netherlands-based company, and rental giant Riwal will be serving up something new at its depot, not far from the APEX showground. Riwal describes it as 'ground-breaking novelty' and is transporting visitors to the show to and from its facility to view it. Riwal has a history of presenting inspired products at APEX. In 2014, it debuted a converted JLG 800AJ articulated boom from diesel to electric. The 800AJ conversion was carried out following a request from KLM.
Royal Dutch Airlines for a 26 m working height aerial work platform for use on aircraft maintenance inside the hangars that would not expose the employees to emissions or loud noise.
Staying true to its partnership with JLG, Riwal, as authorised JLG dealer for the Netherlands and Poland, will also showcase a refurbished JLG 27-32 first manufactured in the seventies on its stand this year. In addition there will be a virtual reality application including a variety of aerial work platforms and telehandlers.
Staying with Netherlands-based companies, Catamout represents a new name in access equipment and will be exhibiting at APEX for the first time, with the launch of a tracked platform, the Catamount 25.10. The machine has a working height of 10m, with a total weight of 2500kg. Its key advantages are that no outriggers are needed and it is transportable using a tow capacity of 3500kg. It offers a fuel efficient Yanmar engine and the latest operator and safety technology.
Company owner Caspar van Woerden grew up in Ontario Canada, and founded Catamount in the Netherlands in July 2015, after moving to country in 2007. The products are built in its production facility in the Netherlands and the planned product range for the foreseeable future will be several models ranging from 2500kg to 10000kg.
"There is a growing demand for a light weight compact aerial track lift in Europe," says Mr van Woerden, "The last factory which produced similar machines in Japan has discontinued their line of aerial lifts. We saw this as an opportunity to fill the gap. Together with a group of engineers and end users we formed a team to design and build the ultimate compact Track lift which meets today's safety and market requirements."
Truck Mounts
On the subject of new companies, APEX is also set to represent a good year for truck mounted products. Klubb, launched last year in France, will present a new range of truck mounted platforms at APEX. With working heights from 18m to 25m and outreaches from 14m to 18m, with 280kg in the basket, these machines are a combination of designs from Comilev's Xtenso range and Klubb.
It follows the announcement in February that Klubb had acquired the assets of Comilev, after the company folded last year. The assets include the brands and intellectual property of the former manufacturer's vehicle mounts, including the Xtenso range, aimed particularly at utility applications.
As a result, the Xtenso 4, mounted on a Renault Middlum truck, will make its debut at APEX, with a working height of 21m and outreach of 16m. The platform is suited to all electric grid activities, said the company.
At the same time, Klubb will show a new van mount; the K21, mounted on a 2.9 tonne Peugeot Expert. The compact model has a 9.1m working height and 5.8m outreach. "It's a great solution for city maintenance," said a company spokesman, "This platform is particularly easy to park and provides quite a big space for storage despite its small size".
Time is also expanding its 3.5 tonne offering, with the launch of the VTX vehicle mounts. The dual boom Versalift VTX-240 is now available for the Iveco Daily and Renault Maxity 3.5 tonne Euro 6 chassis in addition to the traditional Mercedes-Benz Sprinter version.
The Euro 6 Iveco Daily version will be shown for the first time at the exhibition, while the other addition to the series, the Euro 6 Renault Maxity mounted VTX-240, is now taking part in a roadshow hosted by Time Versalift SAS, in France.
The performance of the two new units is similar to the Mercedes-Benz Sprinter mounted unit with a maximum working height of 24.2m at full capacity and a maximum outreach of 12.5m with 80kg or less. The unit has advanced electro-hydraulic FPC controls with variable outreach, auto setup and packing - home function - and on-board diagnostics in the basket. The basket capacity is 220kg and all units feature enough leftover payload to accommodate a driver, a passenger and a full tank of fuel while remaining well within the realm of legal driving in the 3.5 tonne GVW class.
"We know that different customers prefer certain vehicles, and with the addition of the Iveco and Renault mounted versions our ambition is to open up new European markets for the Versalift VTX-240," says Per Torp, CEO of Time International.
Ruthmann will be extending its product range following the majority buyout of the Marti Group last year, leading to the creation of its new Ruthmann Italia division and Ecoline truck mount models. There will be a new Ecoline product at the show, the RS 240.
The German manufacturer will also be presenting the production-ready model of its next-generation TBR 250, since the company announced the sales launch of the new model at the end of 2016. The 3.5 tonne Euro 6 chassis has a 25m working height platform combined with a 16.5 m lateral outreach, at 100kg basket load, and Rüssel jib.
With a working height of 29m, the TB 290 - the world's highest truck mounted aerial platform on a 3.5 tonne chassis – will also be on Ruthmann's stand, representing the evolution of the previous TB 270+ model. The four new high working height Steiger units will be there too: the T 510 HF and T 570 HF (presented at Bauma) and the T 650 HF and T 750 HF (launched in October 2016).
Staying with the 3.5 tonne area, Easy Lift is exhibiting a 15m van mounted platform, the EV150, on 3.5 tonne Ford Transit. It is not a new product but for the first time it has been installed on a Ford. Other 3.5 tonne vans on which it can be installed are Mercedes Sprinter, Volkswagen Crafter, Opel Movano, Citroen Jumper, Fiat Ducato, Renault Master, Iveco Daily and Peugeot Boxer.
The manufacturer will also launch a new 36m tracked platform, the R360.The R360 is equipped as standard with diesel engine, but it is also available in a hybrid version (R360HY) with diesel plus Lithium battery. The R360 is also available on wheels. In this case the R360WBA is equipped with traction battery and the hybrid version R360WHY is equipped with both traction battery and diesel engine.
France Elévateur will officially launch its partnership with Canadian manufacturer of insulated aerial devices, excavators and cable handlers Posi+, at the show, with the presentation of a new model, the 500-55 mounted on 17 tonne MAN 4WD truck.
The over-centre configuration can be used for live line working up to 138 kV Category A, B or C, following ANSI 92.2 rules. Working height from dual rotating basket is 18.5 m with a reach of 15m, and including a material handler capable of up to 900 kg.
The fully hydraulic control system can work in extreme environments, using a single joystick and operate at -40°C. It is also equipped with an optional ground control panel.
The turntable, sub frame, outriggers and bodywork are produced in France by France Elévateur, which has an agreement with Posi+ to sell the product in Europe, Africa, Middle East, Russia and India.
Also on the manufacturer's stand, and following the launch of the 28m working height 284TBE during Intermat in Paris, two years ago, with the production-ready model shown at Bauma in Munich last year, the 2.0 version, 354TBE, will be displayed at APEX. It has a new adaptive jacking system. The unit provides better performance without compromising the compactness of the vehicle thanks to the sliding system of the boom which saves 1.5m from the overall length of the vehicle by storing it on the top of the vehicle's cabin.
France Elévateur's 091F van mount will also be on the exhibitor's stand, designed with a single telescopic boom to lift one person (120 kg) up to 9m with 'urban cut' – a rear overhang cut-away to provide compactness when mounted on light duty vans of around 2800kg GVW.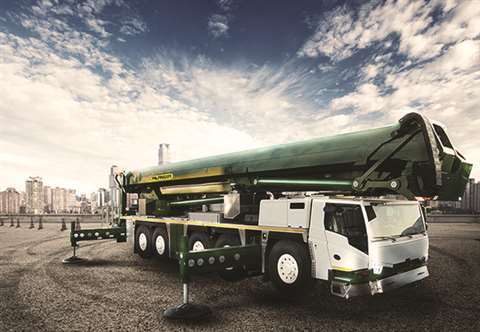 Big launch
Moving on to the bigger truck mounts, APEX will be the launch pad for what Palfinger Platforms describes as 'the world's largest all terrain truck mounted access platform', the P 1000 Top Class.
The P1000 was designed primarily for the assembly and service work of wind turbines. It has a lateral reach of 35m and a maximum working height of up to 102.5m, with a basket load of 200kg. The maximum load in the basket is 530kg.
The model represents an upgrade of the existing WT 1000, plus the established functions of the manufacture's Jumbo NX Class. This gives the P 1000 new safety and assistance functions, with the set-up width now 60 cm less than the previous model, with no change in performance data. The P 1000 is mounted on a five-axle all-terrain Faun chassis.
Apart from the 102.5m working height giant, six further models will be on Palfinger's stand, including the P 640 from the Jumbo Class NX series, with working height of 64 m, 40.5 m reach and flexible basket rotation of 2 x 200 degrees. Also on show will be the new P 250 BK from the Light Class; and the P 170 TXE, P 200 AXE and P 160 A models from the Smart Class, all three with a GVW of 3.5 tonnes and compliant with Euro 6 emission regulations. Visitors to the Palfinger stand will also be able to take a ride in a virtual reality simulator and see two advanced driver assistance systems (ADAS) and experience the advantages of the Hands Free and Collision Protection functions of the P 1000 on location.
Bronto Skylift will exhibit its 70m working height S70XR truck mount, with an outreach of 36m and a maximum capacity of 600kg. Overall length of the machine is less than 12m, allowing it to have EU Whole Vehicle Type Approval. The unit is equipped with a rotating camera cage, an extendable cage with a camera pod and a lighting rig. Also included are the latest Bronto+ control system, remote controls and a 1100kg boom mounted winch. All Bronto units can be combined with a large quantity of options to customise the unit for different needs. All units come with two lifting cylinders, for optimum safety.
Multitel Pagliero will be present with, among other models, truck mounted platforms on 3.5 tonne GVW trucks. The MJ 226 is an articulated unit with extendible jib and entirely made of aluminium, with a 22.6m working height and 12.4m outreach. It is possible to work with the 250kg load capacity below ground level. The MT 204 telescopic will also be there, with the same features and a working height of 20.5m and a 14.3m outreach, plus basket capacity of 300kg. Another truck mount at the show will be the MJ 201 S articulated model, again aluminium with an extendible jib and useable below ground level. This time working height is 20.1m, while outreach is 8.6m. A notable feature being jib articulation of 160° to the main boom.
From Socage, the 75m working height forSte 75TJJ will be on show with a new convertible basket. The telescopic platform, with double jib, can be mounted on trucks with minimum GVW of 32 tonnes. It has a maximum outreach of 40m and a safe working load of 600kg, including six workers and tools, with a rotation of 700°. It can be equipped with an hydraulic winch mounted on the jib, with 900kg capacity, usable when the aluminium basket is removed.
The new aluminium basket can be hydraulically extended, with dimensions of 2300mm – 3500mm x 1300mm x 1100mm.
It also has a lifting bar to help load the basket. Socage is also bringing the Series VT-VTJ van mounts. At Bauma, the manufacturer launched the forSte 15VTJ, which has a height of 15m and an articulated jib. The Series VT-VTJ is ideal for electric plants and street lamps maintenance works. Furthermore, the Serie E on 3.5 tonne trucks will be there, with a safe working load of 300 kg mounted on the patented X-Factor chassis.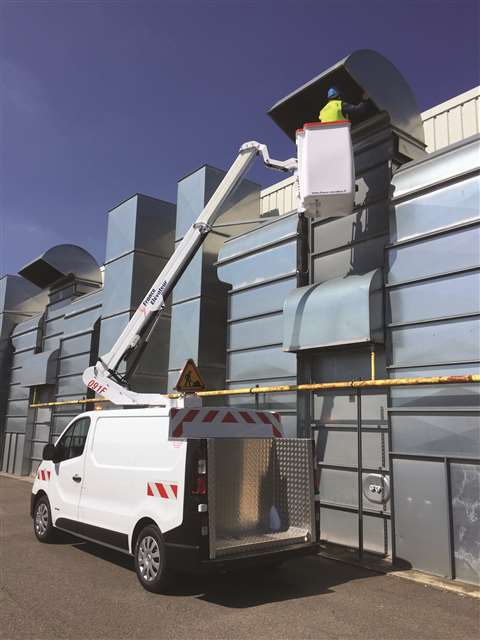 Dinolift is showing a variety of lifts from its current range, including something new from its research and development department.
"We want to keep it a surprise for the visitors at the show," says Karin Nars, director of sales, marketing and communication at Dinolift. Apparently, the new lift on the show is the result of ongoing discussions with customers and meets a specific demand on the market.
From the current range, Dinolift is showing the Dino 220XSE boom lift with a large basket with 350 kg capacity and integrated telehandler function for material lifting up to 500 kg. The machine on display is equipped with outriggers for slopes up to 12° and radio control.
The Dino 220XTC crawler features a gradeability of 43% combined with a levelling capability of 16°. As optional equipment, the DINO XTC crawler can be fitted with radio-control for easier manoeuvrability, electroengine and nonmarking tracks for inside operation.
APEX will also provide the opportunity to see some of the products launched at ConExpo, in Las Vegas, US, in March, for the first time.
For example almac will display its new Bibi 1090-BL EVO. It is the manufacturer's latest new bi-levelling crawler scissor lift with a 10m working height. The machine will also be presented during Conexpo in Las Vegas and is available in three different versions to satisfy a range of needs. Total weight is 2830kg, with a double thermic Honda engine or diesel Hatz and 220V electric engine. width is 1.45m and the machine comes with standard automatic levelling.
Haulotte will be presenting its 28m working height HT28 RTJ O rough terrain telescopic boom for the first time in Europe, having initially launched it at Bauma China in November and at ConExpo. It represents another global product with uses everywhere.
Finishing with another major manufacturer, JLG will of course also be at the show with its range of access equipment. The manufacturer has not yet revealed its plans for the show but you can bet there wil be plenty to see on it's stand.