Articulating booms
By Euan Youdale02 April 2019
Manufacturers are embracing a new technological era with hybrid and electric equipment, along with opportunities in more traditionally-powered equipment.
Producers of articulating booms have been accelerating their alternative power source product lines.
JLG is embracing the technological era with the launch of a range of fully electric lithium-powered construction booms at bauma. Available in three models – 340AJ, 450AJ and 520AJ – these boom lifts offer working heights from 12m to 18m and an unrestricted platform capacity of 250kg for the 450AJ and 520AJ, and 230kg for the 340AJ.
The key element is the option of lithium batteries. "Working on urban job sites where noise levels and stringent emission standards apply, this range provides an alternative for conventional combustion operated equipment," says Barrie Lindsay, director of engineering in Leicester, UK.
He continues, "As a manufacturer we have improved access to alternative drive systems now that the availability of electric drive technology has matured. At this point in time we are ready to match technology with application. Also, battery development has improved throughout the years and faster and opportune charging is a reality. For JLG it is imperative there should be no performance reduction in uptime, duty cycles or terrain ability."
The electric 340AJ, 450AJ and 520AJ offer similar lift speeds and platform capacities as their conventional diesel counterparts. Equipped with 2-wheel drive, the range provides good terrain capability in semi-rough terrain. Maintenance and parts requirements are limited, which is a benefit of electric drive over conventional diesel, which means no filter replacements or engine maintenance is needed, simply because there are none.
"One of the main points is the market is now ready for full electric construction boom lifts," says Jan-Willem van Wier, senior product marketing manager for JLG access equipment in EMEA. "For a relatively small price difference, equipment owners benefit from improved usability as this machine can work outside, but also indoors if needed."
He continued, "While these machines perform equally to conventional boom lifts, they do not produce hardly any noise or emissions. The market wants more electric solutions; which can operate in urban areas. With the availability of these electric midsize construction booms our customer's fleet can be optimised and made future proof."
New generation
Haulotte announced in April 2018 that it would discontinue step-by-step its entire diesel or gasoline propelled machines and shift its production to e-driven equipment. It gave rise to the new Pusleo Generation, with the first units being the HA20 LE and HA20 LE Pro, both launched at Intermat last year, which the company says is the start of a new chapter in the company's history.
They have maintenance-free asynchronous motors (AC), while batteries feature a centralised filling system for easy maintenance. It offers the battery life for a full day work, but the embedded combustion range extender can recharge the battery in a short time period if it is required while working in the field. In most of the applications, it would not be activated and the on-board AC-charger would be sufficient to recharge the batteries from the mains.
The Pulseo range also offers dual load versions to increase the platform capacity from 250kg to 350kg. They also include independent 4-wheel drive. An oscillating axle, solid cured-on tyres, 4-wheel steering, high ground clearance and up to 45° gradeability to operate on heavily inclined terrain.
The company says its new green approach is more a necessity than an option, "Cities across the globe must rise to the same challenge: tackle air pollution, fight global warming and offer their citizens the best possible living conditions. "Many cities and countries have adopted measures limiting or even prohibiting the use of pollution-intensive vehicles and equipment. Engine regulations such as Stage in Europe and Tier in North America are becoming increasingly strict, calling for ever more sophisticated and expensive technologies."
Growing demand
Skyjack is not launching any hybrid or electric articulating booms onto the market yet, rather it is biding its time. Corey Connolly, product manager at Skyjack, says, "Each manufacturer has slowly been introducing new models over the past few years. For Skyjack, we may not have formally introduced anything to the market yet, but it is not to say we have not been working on a product offering.
"For Skyjack, it meant prioritising it with other products, projects, and the immediate demand for them. Right now the demand is definitely growing, especially as emissions standards continue to become more stringent and organisations look to leave a greener footprint. However, total market acceptance and demand just is not there yet."
The requirements for hybrid and electric varies from one continent to the other, depending on legislation. "In Europe there is definitely a trend towards adopting new power options following the introduction of Stage 5 requirements at the beginning of the year," explains Connolly, "Not only supporting the environment and lower emissions but also avoiding the costs and headaches with additional after treatment components.
In North America, the immediate demand is not at the same level as it is in Europe, Connolly adds, "There is no legislation pushing it like an emissions change. That's not to say there are not regional changes/requirements but for rental companies in North America they are still seen as a niche product complementing engine powered machines and not a replacement product."
For Skyjack a hybrid solution looks like the most practical solution when it comes to product launches. "Current job sites are just not set up to support a large fleet of electric machines at the onset of development on the site. Bringing in diesel powered generators to charge electric booms doesn't really make sense."
Skyjack's latest articulating boom is the SJ85 AJ and was launched in 2017. One of the stand out features on the SJ85 AJ is a unique riser design, for the 80ft class. Skyjack essentially took the same riser design on its SJ63 AJ and engineered it to work on the larger SJ85 AJ. It utilises a dual-function tower boom riser, while the SJ85 AJ employs a single action riser, in that it simply goes up and down.
In launching the SJ85 AJ, Skyjack completed offerings in all core 40ft - 80ft classes. Now, the company has its eye on the next class of booms, the 125ft – 135ft boom classes. A firm launch date is still to be determined as the company is looking to prioritise larger booms and expand its electric slab boom range, along with hybrid power options on the articulating booms.
Another aim of hybrid and electric equipment is to offer the customer greater flexibility with one machine, that being two-in-one solutions, for inside and outside work.
As Marie Engstrom, Genie product manager, at Terex AWP, says, "Customers want one machine to do more things and give them a greater return, and articulated booms are no exception. This could be a greater capacity than has been available in the past, it could be a machine that performs in both indoor and outdoor applications without compromise or it could be options and accessories that fit on a number of models to increase jobsite productivity."
Power options
On the subject of alternate fuel options, Genie offers a number of hybrid or electric boom models, including the Genie Z-60/37 DC and FE articulated booms. The Genie FE model offers an efficient hybrid system with true rough terrain performance in challenging conditions and can also be operated in full DC mode for indoor use or locations requiring reduced noise.
Engstrom adds, "Customers are seeing the versatility and financial payoffs of a fuel electric hybrid, expect Genie to continue to invest in this technology."
Manitou is promising something new in the alternative power area for Bauma. It says it will have three-hybrid or electric-powered units on its stand. The company is remaining tight-lipped about the launches but from the image on their publicity brochure one of them looks distinctively like an articulating boom.
Manitou recently launched its latest booms, the 160/180 ATJ models, with the main objective of being ready for European Stage 5 regulations. The powertrain has been completely re-worked from axles to the engine and a load-sensing pump for better steering precision was added. Both models now have as standard a Stop and Go system to reduce fuel consumption and it has improved rough terrain performance, including 45% gradeability.
For electric machines generally, the worldwide market has grown by 18%, says Samuel Viaud, global product manager AWP, adding that this, "will continue to grow with all the restrictive standards concerning pollutant gas emissions and the emergence of more versatile electrical machines. The current trend towards environmental friendliness is encouraging manufacturers to explore new technologies."
Light loadings
Niftylift is well known for its hybrid technology, thanks to its launch of the world's first hybrid boom more than 10 years ago. Last year the 21m working height HR21 4x4 (MKII) boom replaced the original HR21 4x4 (MK1) with a range of new features.
At 6,640kg, the model is very light, allowing it to be used in a greater number of locations, and it lowers transport costs. It is also said to offer a 41% reduction in fuel consumption compared to the first generation model. Niftylift has also just launched the HR12L (low-weight), all-electric, 12m working height boom. The HR12L is 1.79m wide and weighs just 2,540kgs, allowing it to be transported on a trailer, for low cost transportation.
Electric-powered access solutions will be the focus for Sinoboom in its first visit to bauma Munich. The Chinse manufacturer will be bring six electric-powered machines consisting of five scissor lifts, and one articulating boom.
Making its debut in the European market, the 17.7m working height GTZZ19EJ, featuring a load capacity of 230kg, gradeability of 40%, and a horizontal outreach of 9.3m. The electric drive offers energy-efficiency, while being environmentally-friendly. The manufacturer says highlights of its equipment are a small turning circle, ease of operation and a robust build.
Of course, while articulating equipment lends itself more readily to hybrid and electric power than telescopic booms, it not the only trend this equipment type is seeing. From Haulotte's point of view, "The articulating boom market has grown continuously over the last five years on a worldwide scale. [In terms of] recent product adoption in Europe and renewals and market growth in the US.
"Articulating booms are more versatile machine than telescopic booms thanks to the outreach feature, matching with a wider range of applications. Markets become more and more aware about these opportunities.
"The stronger interest in this segment can be shown through the market evolution; explaining as well, the arrival of new manufacturers on this segment.
At Bauma Genie willl be showing the biggest addition to its family, the diesal-powered Z-45 XC, adding to the growing number of Xtra Capacity (XC) machines from the company. The XC adds dual 300kg/454kg capacity for up to three people. The Z-45 XC boom fully replaces the Z-45/25 RT model, and keeps many of the features, such as 45% gradeability and parts commonality with other Genie booms.
Matthew Elvin, chief executive officer of Snorkel says the industry continues to demand more from aerial work platforms. "Most manufacturers, including Snorkel, are working hard in the design stages to deliver articulating boom lifts that offer greater platform capacities to help increase productivity on the jobsite," he says. "The engineering challenge is that the market also wants articulating booms that are lighter in weight for transporting, with lower ground loadings, and with reduced engine/horsepower demands to meet jobsite emission targets."
Elvin expects the articulated boom lift market to remain strong for the coming year. "Articulated boom lifts are being specified for projects more often, due to building design becoming more complex, which in turn creates areas that cannot easily be accessed with a telescopic boom lift," Elvin says. "Articulated boom lifts are also commonly more compact in their stowed position, making it easier for rental companies to transport them with other equipment, and also the compact dimensions make them popular on constricted jobsites, such as in crowded downtown areas.
"We remain optimistic for the market conditions to remain steady within the next 12-18 months, although we do think that demand may start to level out during this period."
These circumstances may be heightened by new players in the articulating booms market. At Bauma China, Dingli launched its newly-updated and now production-ready range of booms. The range is based on prototypes it presented two years ago at the same show, and includes six models thus far; 24, 26, 28 and 30m working height telescopic booms and 24 and 28m working height articulating booms.
Four more models will be ready in the first quarter of this year, those include 16m and 22m telescopic booms and 16 and 20m articulating. A further two models will follow in 2020, with 36 and 45m working heights.
Major ambitions
Magni co-designed the distinctive boom lifts in which the engine and all operating components are positioned under the chassis and the counterweight is also in a lower position, creating a lower centre of gravity and better range in the lifting envelope, says the company.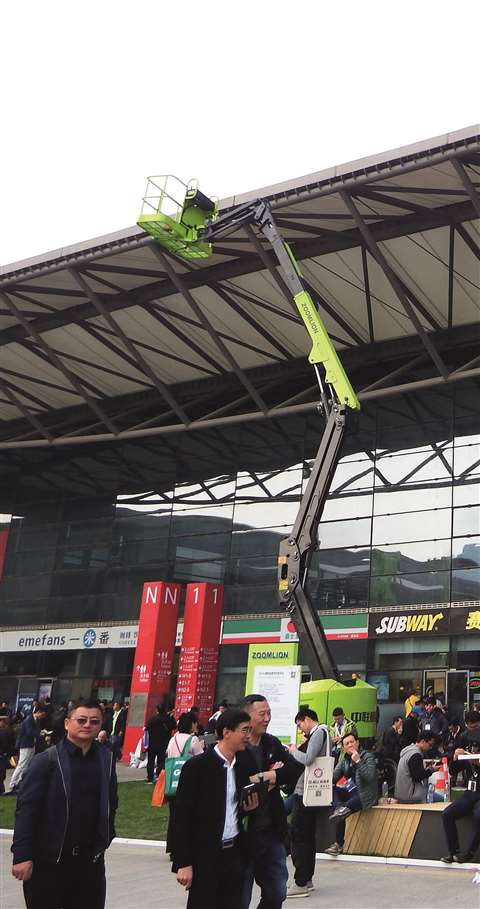 Zoomlion is using its knowhow from its major mobile crane division to create its newly-announced self-propelled offering. "This is easily translated to the market," says Ren Huili, general manager. "The prototype booms will be tested over the next few months in the China facility."
The current articulating boom lifts have a platform height range of 14m and 20m. This will increase to 38m working height by the end of the year. LGMG has major global plans, although its initial mission in Europe will be to secure its position as a supplier of scissor lifts, for which it has significant ambitions.
This feature was written for the March issue of AI, ahead of Bauma. See all the latest Bauma news in the forthcoming Bauma review in the May-June issue, publishing in the next few weeks.