Australian materials company chooses Volvo
A building materials company in Australia has selected five new machines from Volvo Construction Equipment (CE) to help with loading and handling duties. The company, Repurpose It, is using new technology to recycle unprecedented quantities of material for re-use in construction.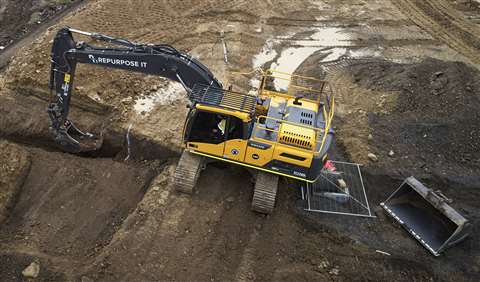 There are three excavators at Repurpose It plant in Victoria, an EC250DL and two EC220DL units. Their work includes general earthmoving duties on the developing site, as well as feeding screens, along with sorting and stockpiling building rubble.
For loading work, Repurpose It opted for two wheeled loaders, a L110F and an L220H. The former provides quick and easy operation, while the latter's 32 t classification makes it the heavy hitter of the site. The L220H is also used for feeding the hopper at the new recycling plant.
"We chose Volvo as our equipment partner because we feel we have an alignment with the company's commitment to energy efficiency and its engineering values," said CEO George Hatzimanolis.
"Our business is focused on reducing our carbon footprint and working towards a more sustainable future, as is Volvo. We were also attracted to the quality that comes with Volvo machines."
According to Volvo, the upgraded 22 t EC220DL crawler excavator boasts 10% more fuel efficiency than alternatives thanks to its premium Volvo D6 diesel engine.
The 25 t EC250DL has a 138 kW Volvo engine capable of delivering engine speeds of up to 1,800 rpm for faster cycle times.
Repurpose It purchased the machines from CJD Equipment, Volvo CE's exclusive distribution partner for Australia.