Awards Shortlist - Urban Demolition
Judges: Dan Costello, Costello Dismantling, USA; William Sinclair, Safedem, UK; John Woodward, C&D Consultancy, UK
The Berg Corporation (USA)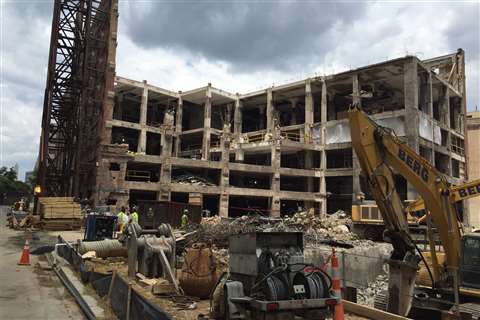 Project – The Museum of the Bible
Client – Clark Construction
The Bible Museum was an intensive and massive structural and selective demolition of an aging building surrounded by active pedestrian, vehicular, subterranean and railway traffic in the heart of one of the most congested, scrutinised and important cities in the United States. The environment surrounding the project was not only politically charged but physically daunting.
Erith Contractors (United Kingdom)
Project – Hanover Square
Client – Great Portland Estates
As part of London's Crossrail project, the site of Hanover Square in the West End is being transformed to create the new Crossrail Eastern Ticket Hall Station, along with an accompanying £500 million (US$645 million) development of retail, office and residential space.
Last year saw Erith demolish 12 properties to make way for this new development, while retaining eight of the historical façades, one of which is Grade II listed.
Liberty Industrial (Australia)
Project – Sydney Harbour Control Tower Deconstruction
Client – Barangaroo Delivery Authority
The project involved the deconstruction of the 87 m (285 ft) high landmark Sydney Harbour Control Tower. The tower consisted of a reinforced concrete column topped by a stainless steel and glass operations area.
Liberty Industrial was appointed to remove the tower following the proposal of an innovative and carefully considered deconstruction methodology designed to minimise the impact on local residents, businesses and visitors to the parkland where the tower is situated.
O'Keefe Demolition (United Kingdom)
Project – Walsingham House
Client – ISG Construction
Walsingham House was a particularly challenging project for O'Keefe for various reasons – it was a tight urban site adjoined to a hotel, no tower crane could be used, and there were archaeological investigations going on at the time.
To facilitate the development, O'Keefe had to demolish the internal structure of the building and retain the external Portland stone façade. To make the situation even more complex, the site adjoins a hotel with narrow streets which are constantly busy with people.
Rye Demolition (United Kingdom)
Project – Boleyn Ground, West Ham United football stadium
Client – Barratt London
Rye Demolition was awarded the contract to demolish the iconic West Ham United football stadium (the Boleyn) in the borough of Newham in East London at the value of £2 million (US$2.6 million). The stadium was in a built up heavily residential area surrounded by tower blocks, private housing, artierial roads, shops, a school and a church.
The World Demolition Awards are part of the World Demolition Summit, which takes place in London, UK on Thursday November 2. The event is organised by Demolition & Recycling International in co-operation with the European Demolition Association and with the support of the National Demolition Association of the USA. The headline sponsor is Volvo Construction Equipment.
For more details please visit www.demolitionsummit.com