Contract of the Year over US$1m and World Demolition Award 2017
As the World Demolition Summit migrated from North America to Great Britain, so did the main award. Canada's Priestly Demolition had lifted top prize in Miami in 2016, but this time there was little doubt that Erith Contractors would add the "best of the best" prize to the three categories they had already triumphed in. And it was for a London-based project as well.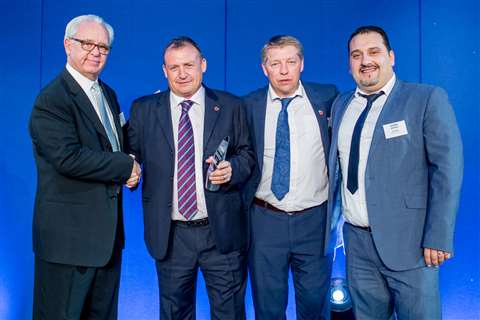 Winning a World Demolition Award is based on more than just geography, howerver, and when Erith finished the project to demolish the Marble Arch Tower in London's West End, in June 2016, it had removed an Odeon cinema, 23-storey office block, a single storey basement and two-storey podium.
The equipment used – including a Comedil 180 tower crane and a 67 t high reach excavator – tells the story of the scale of the project. Specific challenges faced by Erith included the demolition of post-tension beams at the cinema, underpinning the party wall in the adjacent building, and creating a new basement.
The contract also featured high levels of engagement with the client, public and regulatory authorities, and achieved a 99% waste recycling rate equating to around 35 t of material including concrete, timber, metal and glass.
"It's difficult to imagine a more high-pressure demolition than a major site overlooking London's Hyde Park," said the judging panel.
"Erith overcame all the challenges to deliver a fantastic job."