Haulers: stage V models reduce emissions
European contractors are entering a cleaner and more efficient world with the advent of Stage V haulers
To say that the world is changing fast would be quite the understatement. If you take into account the new ways of working ushered in by Covid-19, telematics, BIM, automation, circular economies and the new emissions regulations, the term 'Stage V' starts to mean so much more than just lowering pollution levels.
Companies in the mining and quarrying sectors generally deal with the largest quantities of material in the industry and, due to the nature of sourcing and processing the materials, their sites are more permanent and operate longer working hours.
On the face of it, this may seem like an advantage when it comes to streamlining operations – and in some ways it is. However, as Beka Nemstsveridze, product manager for articulated dumper trucks at Doosan, tells CE, these companies also face unique challenges.
"The main challenges for mining and quarrying companies are rising energy costs and social and geopolitical risks. These companies also remain under exceptional pressure to control overall costs and improve safety performance," says Nemstsveridze.
Therefore, when it comes to controlling costs, improving the efficiency of equipment such as haulers is a key factor. With this in mind, manufacturers like Doosan are redesigning every aspect of their articulated and rigid hauler production lines.
Lower total cost of ownership
Last month Doosan presented its new DA30-7 and DA45-7 Stage V compliant articulated dump trucks (ADTs) at the online Hillhead Digital event.
Nemstsveridze says, "At Doosan, we are actively working to optimize total cost of ownership (TCO) by reducing fuel consumption and continuously improving the quality of machine parts."
While the DA30-7 is powered by a Scania Stage V compliant DC09 9 litre diesel engine, which provides 276 kW of power, the DA45-7 is driven by Scania's Stage V DC13 13 litre diesel engine and has an output of 368 kW.
Doosan's new ADTs also have a real-time payload measuring system as standard. The system uses a light indicator to help excavator operators place optimal loads in the ADTs and improve productivity and lower fuel consumption.
The 28 tonne DA30-7 and 41 tonne the DA45-7 have both been upgraded with a new cab and self-levelling front suspension, which adjusts itself depending on the operating conditions for a more comfortable working environment.
Fleet monitoring
All Doosan machines of 14 tonnes and above are factory-installed with the DoosanCONNECT TMS2.0 wireless fleet monitoring system, which provides information about machine performance in a dual mode using satellite and mobile network.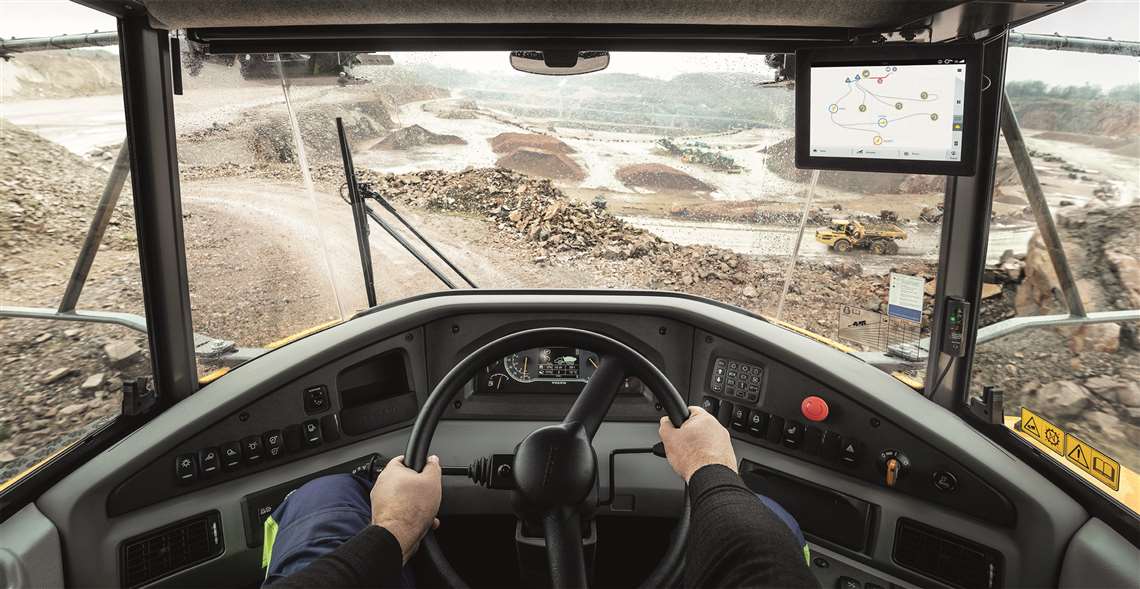 To facilitate ease and more efficient working practices, changes have also been made to the haulers' diesel and AdBlue tanks, which have been repositioned to allow the operator to fill both tanks whilst standing next to the machine.
While these new technological features help to lower TCO, many Doosan and other equipment manufacturers also believe that new digital technology will help to attract more young people to the industry, which is generally facing the challenge of an ageing workforce.
Nemstsveridze says, "The industry is rapidly embracing digitalization in a series of huge steps - a process that is of great interest to the younger generation. As you may know, Doosan is at the forefront of these developments with the introduction of our Concept-X and 5G Remote Operation projects in 2018 which we believe will be the new word in the construction business and attract more and more young people to the industry."
Digital site maps
A case in point is Volvo Construction Equipment's (Volvo CE) Haul Assist app. Operated via the manufacturer's 254mm Co-Pilot touch screen display, younger people may find that the new map function is not completely dissimilar to video game features.
Available with the R100E rigid hauler and part of the company's Connected Services offering, Haul Assist helps operators to improve their skill and productivity levels.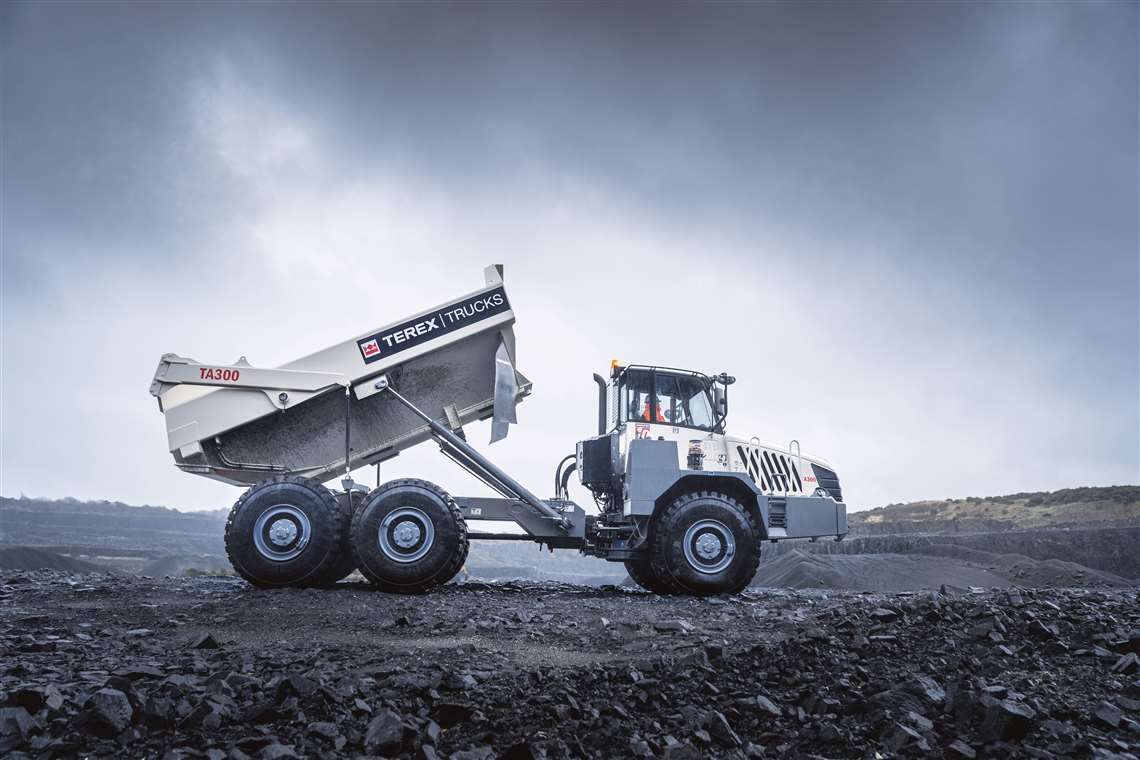 The most recent update to the Haul Assist app is Volvo's Map feature. The map uses the hauler's built-in GPS and the Co-Pilot's digital connection to communicate with other machines on site in real-time, allowing operators to see both their position on the site and the position of other haulers fitted with the technology.
On large quarry or mining sites with varying terrain, restricted visibility and limited haul roads, the Map function can plot haul roads and preferred routes and identify places where haulers will meet or pass.
This means the risk of potentially dangerous situations can be significantly reduced, with predefined narrow or single lane road sections highlighted on approach to help operators navigate them safely.
Volvo says that being able to monitor traffic flow also helps site efficiency as operators can avoid congestion and waiting times, by anticipating their arrival at dump and pick-up areas.
In addition, the integrated Map feature can automatically trigger the on-board weighing system. This ensures that operators of machines like Volvo's 95 tonne Stage V compliant R100E, carry the correct load with data to ensure each load of material they collect is of the optimum safe amount.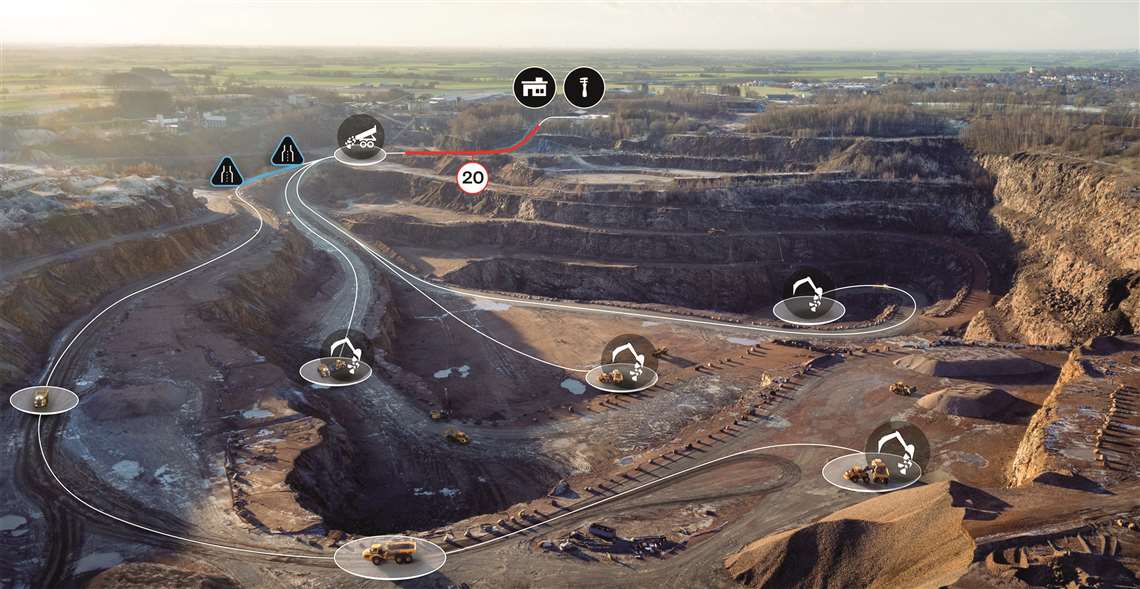 While the manufacturer's new business area Volvo Autonomous Solutions (VAS) is looking to the future by developing fully automated quarrying sites that use remote-controlled electric haulers such as the TA-15, aggregates, mining and quarrying firms are currently looking to improve operator efficiency.
Automated equipment features
Cat's Stage V 725 articulated hauler has been designed so that drivers with different experience and skill levels can focus on essential tasks and operate the machine maximum efficiently.
The 24 tonne-capacity model, which hit the European market last year, includes Cat's assisted automatic hoist system. Requiring 50% less operator input, the system places the transmission in neutral, applies the waiting break and hoists the truck bed to the maximum tipping angle at high rpm. Cat says, "The system lowers the bed with a controlled descent to prevent "body slams" and increase component life."
Alongside the automatic hoist is the manufacturer's new Cat Detect with Stability Assist feature. This gives drivers both visual and audible alerts if the machine is at a dangerous angle while dumping and automatically stops hoisting to prevent the machine from tipping over.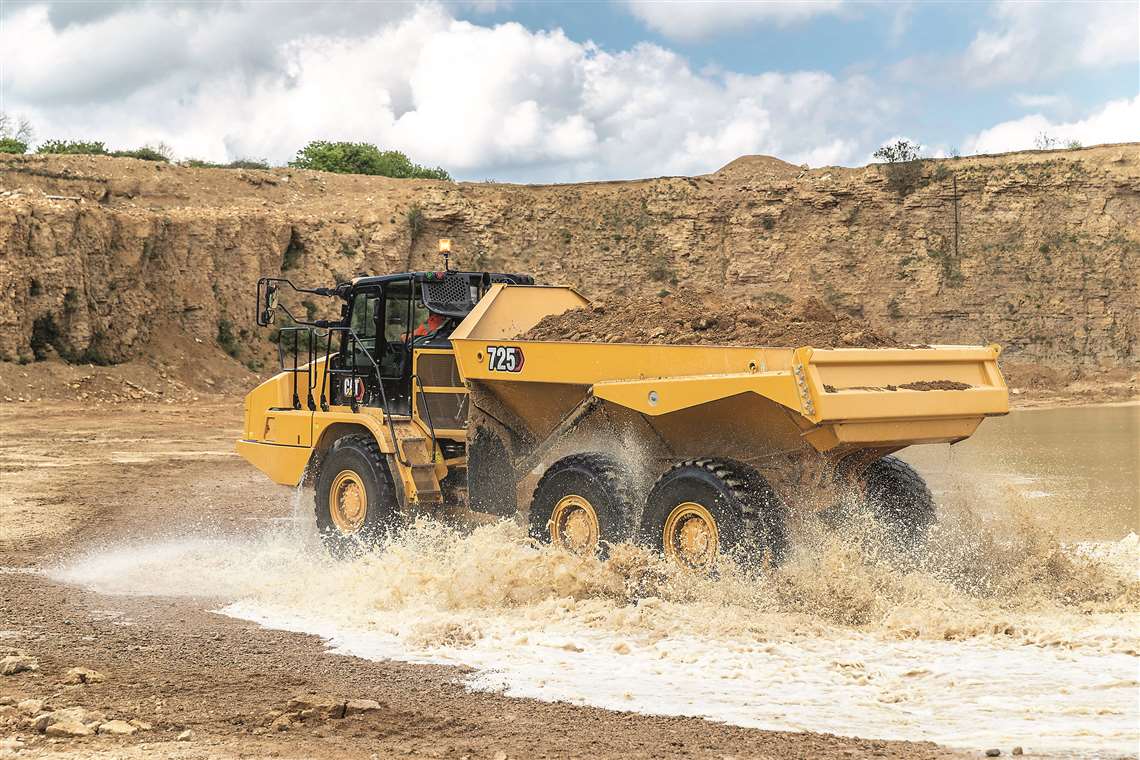 Traction control
To further decrease operator tasks, the model also includes Advanced Automatic Traction Control.
Cat says the feature automatically changes the differential lock engagement level and continuously maintains traction. This "removes all manual traction control decisions from the operator" while increasing productivity and reducing tire wear.
Inside the model's next generation cab is yet another feature that reduces the number of things operators have to do. The machine's "wake up" function automatically turns on the machine's touchscreen display when the cab door is opened, meaning operators hardly need to touch a button before being ready to start work.
On that note, Stage V technological improvements will no doubt go a long way to helping equipment owners reduce costs – regardless of the sector they operate in.
Indeed, Doosan's product manager Nemstsveridze tells CE that "the hauler market is quite strong and dynamic at the moment due to many large infrastructure projects in Europe – HS2 in the UK being one."
Hauler manoeuvrability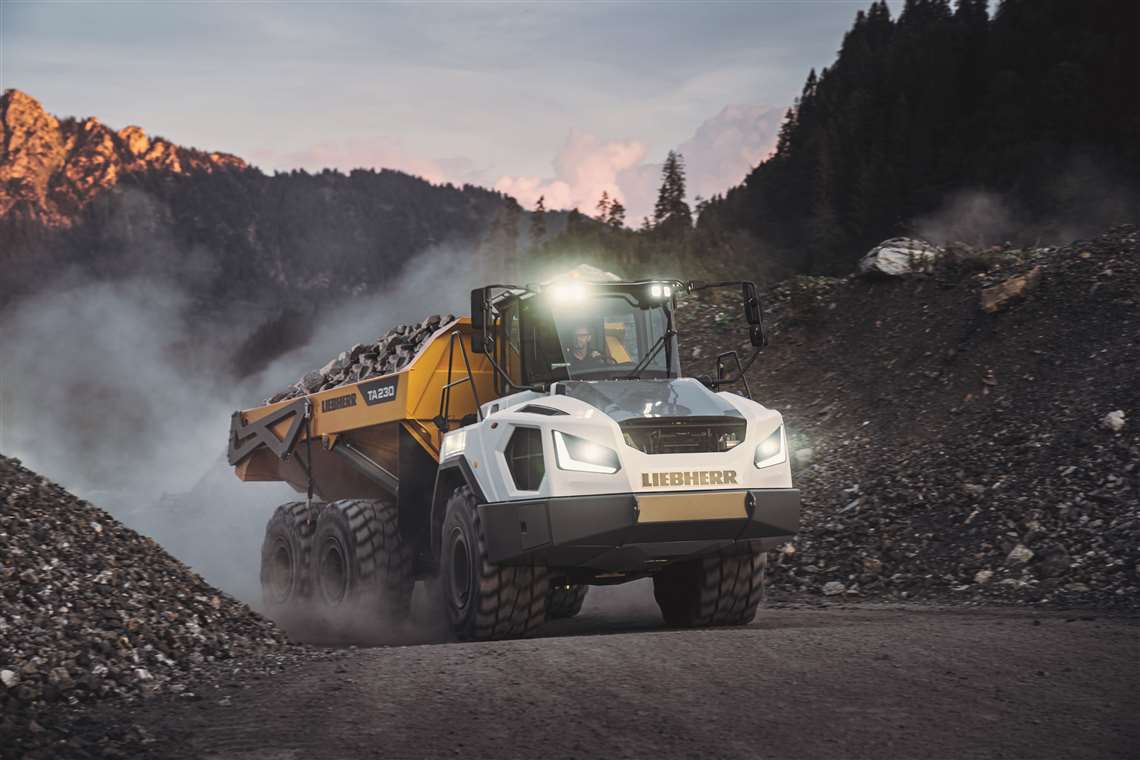 When it comes to Liebherr's new generation of ADTs, models such as the TA 230 Litronic have been completely redeveloped to offer maximum power, ground clearance and manoeuvrability.
Capable of carrying a payload of 28 tonnes, the TA 230 has a redesigned front end with the powershift transmission positioned under the cab and the exhaust gas aftertreatment located behind it to save space. This means the off-road vehicles offers a maximum ground clearance and a large slop angle.
Designed for transporting overburden, TA 230 has a solid articulated swivel joint that allows the front and rear ends of the machine to move independently for optimum off-road capability. Liebherr says this means the vehicle is also suited to mining and infrastructure applications and specialist tasks such as the construction of tunnels.
Equipped with a 6-cylinder Liebherr D956 construction engine, the machine is fully Stage V compliant and its drivetrain includes an automatic 8-speed powershift transmission for optimal force distribution.
An automatic gear selection allows the ADT to adjust to its current speed and load to provide optimum torque and fuel consumption levels to reduce fuel usage.
Liebherr says its TA 230 Litronic was redeveloped after a "comprehensive market and customer analyses" and that it has now been equipped with a new trough that features tapered edges that allow material to be unloaded more quickly.
A trough heating option with exhaust gas management is also available for the model, which the manufacturer says makes unloading in colder temperatures easier.
Stage V engines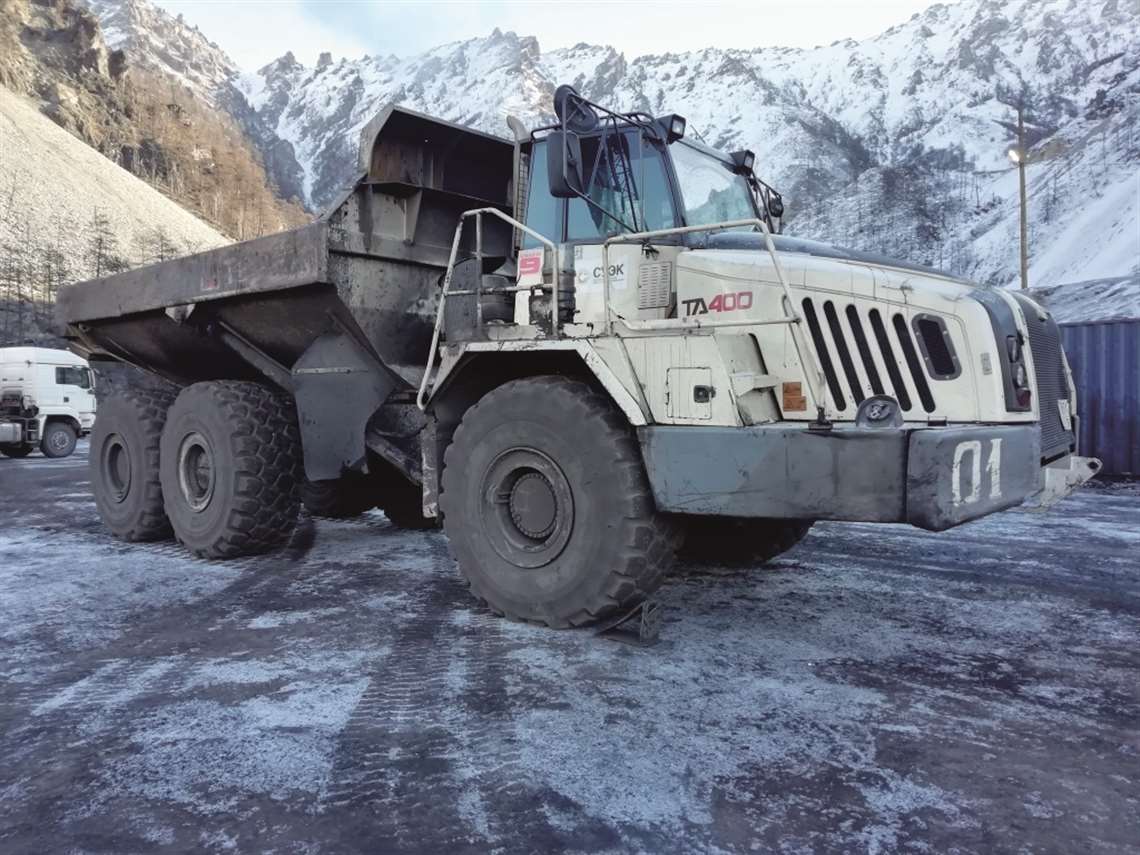 Launched just last month, Terex Trucks' 28 tonne TA300 and 38 tonne TA400 articulated haulers been updated with new Stage V compliant Scania DC9 and DC13 engines, respectively.
The Scania engines offer up to 7% less fuel consumption than their predecessors and include an aftertreatment system with selective catalytic reduction (SCR) technology, which means "no exhaust gas is returned to the combustion chamber of the engine".
The Stage V engines are also connected to the haulers' telematics systems, allowing operators to easily access and control equipment functions.
While the manufacturer's new Stage V models have just hit the European market, its Stage IV versions are continuing to demonstrate their reliability and robust longevity.
Indeed, four Terex TA400 articulated trucks have been in near constant use for the past eight years at a Siberian coal mine.
Working up to 22 hours a day in temperatures as low as -45 degrees Celsius, the haulers at the Arpatsky mine in the east of the country are being used to transport coal and overburden.
Described as a "workhorse", the TA400's traction and power-to-weight ratio means it can handle the icy surfaces and steep slopes of the mine.
Dmitry Dulin, the chief engineer at the Arpatsky coal mine, says, "The robustness of the TA400 and its ability to deliver a reliable performance in tough conditions was a big part of the reason why we chose Terex Trucks haulers over other brands. Since 2012, our haulers have already clocked up around 48,000 hours and they're still going strong."
iTruck and I haul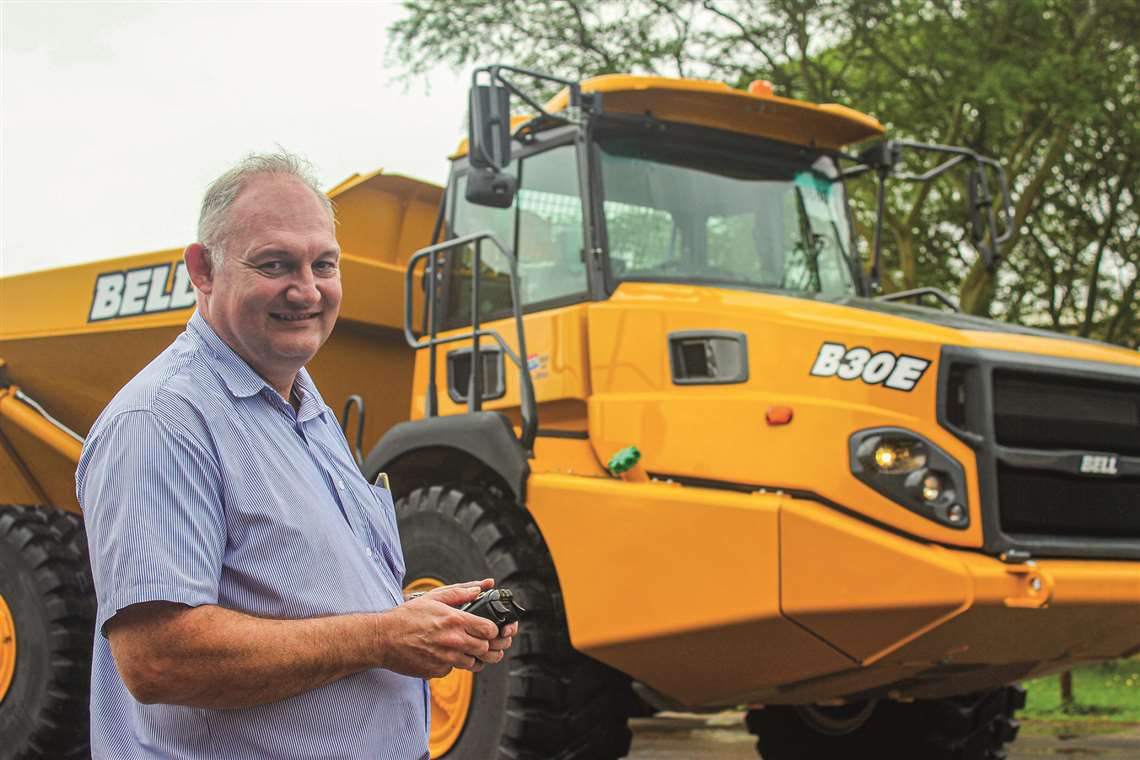 Bell Equipment is designing 'autonomous-ready' construction equipment, that will allow machines to be easily fitted and controlled with guidance technology systems from different technology developers.
Bell's ADT product marketing manager, Nick Kyriacos, says, "Autonomous applications are industry specific and require surveying and guidance by an industry expert.
"We want our customers to be able to choose a guidance solution that they are most comfortable with and that can be fitted to all the machines in the work cycle. Keeping the guidance system independent of the OEM gives customers the flexibility to run a mixed fleet and benefit from the efficiency and productivity that provides."
Since early 2020 Bell Equipment has been working with German industrial radar specialist Indurad and Austria-based steel technology firm Voestalpine on the development of the iTruck autonomous haulage system (AHS).
Installed on Bell's B30E articulated dump truck, the iTruck AHS has been in use on a research and development project at a Voestalpine-owned mine in Austria.
The project aims to improve the efficiency with which autonomous-ready machines carry out instructions received from third party automation systems like Indurad's iTruck AHS.
Future of haulers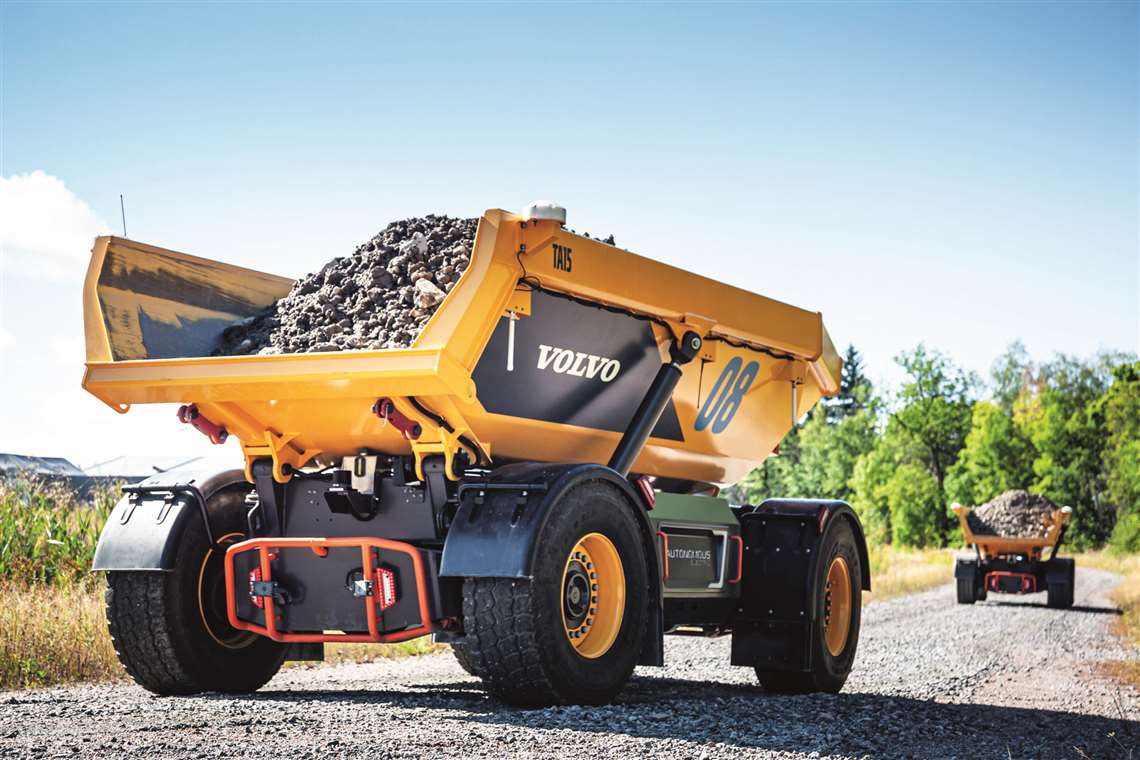 Volvo's 15 tonne capacity electric TA15 hauler gives a glimpse of what future sites in the aggregrates, waste, recycling, mining and quarrying industries may look like.
Part of the company's TARA autonomous transport solution concept, the TA15 load carrier maximises loading and hauling efficiency. Developed as part of Volvo CE's HX02 concept, the haulers can be wirelessly connected to form a 'train' for synchronised operation on site.
Perjohan Rosdahl at Volvo Autonomous Solutions says, "Our approach is to start small, in a tightly confined environment and build on our successes over time. A perfect place to start is quarries, which have clearly defined load-and-dump locations over generally short circuits."