Hinowa updates for maintenance
By Euan Youdale24 July 2018
Italy-based Hinowa has updated two of its most popular tracked booms to improve productivity for cleaning and maintenance contractors.
Engineers at Hinowa's headquarters in Nogara, near the Italian city of Verona, have added a water supply line to the platforms of both the Hinowa Lightlift 17.75 and 20.10 models. Sitting adjacent to the existing air pipe, this 0.5 inch diameter tube has a flow of 20.7 bar. The 0.25 inch diameter air pipe and the water supply can be activated at the same time. This aims to speed up operations such as cleaning roofs and gutters on public and commercial buildings.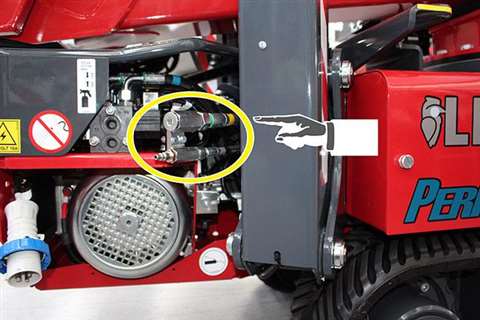 Steve Couling, managing director of APS, the authorised UK distributor for Hinowa, said, "This update brings the 20.10 and 17.75 in line with the rest of Hinowa's Performance IIIS series tracked booms.
"Fittings for air and water lines to the basket as standard will be widely welcomed by our growing customer base in the cleaning and facilities maintenance sectors."
The Hinowa Lightlift 20.10 provides a working height of up to 20.1m and a maximum horizontal outreach of 9.7m. Its lift capacity of up to 230kg can accommodate two people with tools, further increasing productivity.
The Hinowa Lightlift 17.75 also has a platform load capacity of 230kg available without restriction throughout its working envelope. The high-performance tracked boom offers a working height of up to 17m, a maximum outreach of 7.5m, and features a dual pantograph lifting mechanism which allows it be used flush against a wall.