Winner McMahon Services
Country Australia
Project Deconstruction and scrapping of quay and gantry cranes at PSA's Singapore City terminals
Also shortlisted
Demex (Australia)
Erith Contractors (United Kingdom)
Liberty Industrial (Australia)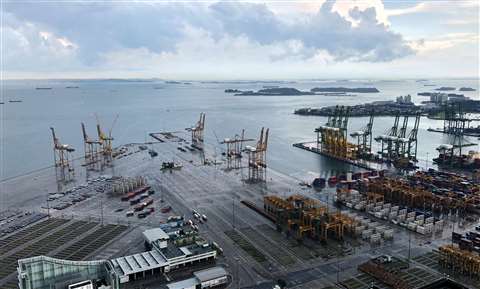 With three Australian companies shortlisted, it was always likely that the award for Industrial Demolition would be on its way to the southern hemisphere. In the end it was McMahon Services who came out on top, but for a project outside its own country.
The project at the Singapore City Terminals took almost a year from commencement to its completion at the end of August 2019 and covered more than 150,000 sq m (1.6 million sq ft).
As well as meeting the key challenges of dismantling quay and gantry cranes while working in an active port facility, the project achieved a 99% recycling rate.
The award was announced by category sponsor Steelwrist, with vice president of the Asia Pacific region Peter Lam doing the honours.
Joshua Board and Chris Chisholm accepted the award for McMahon, commenting: "The logistics of working in a very busy port, one of the biggest ports in the world, certainly created some issues but we overcame them with the assistance of PSA and delivered a very successful project."