Leguan introduces new distributor in Switzerland
By Euan Youdale13 October 2022
The Finnish spider lift manufacturer Leguan Lifts is realigning its distributor base in Switzerland.
Gujer Landmaschinen, which has been selling parent company Avant loaders for 28 years, is now taking over the distributorship of Leguan aerial platforms for Switzerland too. With Gujer Landmaschinen, Leguan Lifts said it gains a partner which is well known throughout Switzerland in the municipal, construction and agricultural machinery sectors.
Aggeler, which previously represented Legaun Lifts across Switzerland, continues to sell Leguan aerial platforms in Eastern Switzerland. Emil Aggeler, said, "With Gujer Landmaschinen we have a traditional partner at our side who is known throughout Switzerland through the Avant agencies. With this change, we can concentrate even more intensively on our main area in Eastern Switzerland with Leguan aerial work platforms."
Leguan Lifts has experienced fast growth in Europe in recent years, said Jori Mylläri, from the company. "The Avant Group has had a close relationship with Gujer Landmaschinen for almost 30 years and has been successful in various market segments from the very beginning.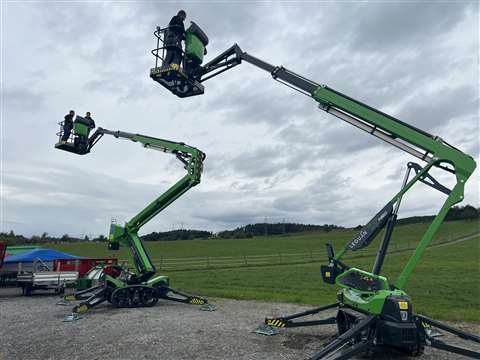 "Since 2019 we have had regular discussions about potential cooperation. This cooperation has intensified even during the past few months and we are proud to announce that Gujer Landmaschinen will be the new general importer for Leguan spider lifts."
Brian Steffen, from Gujer Landmaschinen AG, said the Leguan platforms fitted into the entire product portfolio across its customer base. "The topic of renting will also increase significantly in the short to medium term. With the easy-to-use, self-levelling, high-quality Leguan aerial work platform, a wide range of customers can benefit from this unique machine," said Steffen.