Nationwide opens flagship depot in Scotland
By Euan Youdale10 November 2016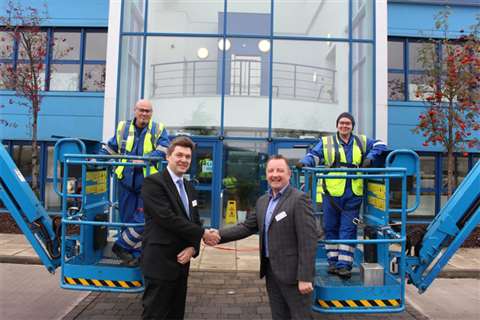 Nationwide Platforms invited more than 100 local customers to celebrate the official opening of its new flagship depot in Bellshill, Scotland. Approximately three times the size of its previous depot, the new facility sets the benchmark for future depots and will provide enhanced customer service and support to a number of high-profile projects throughout Scotland.
Located just outside Glasgow, the 29,000 square foot depot houses more than 450 access platforms including a range of operated and self-drive truck and van mounted platforms from its Specialist Vehicles division. Four dedicated delivery vehicles and mobile service engineer vehicles also operate from the depot to further support the area.
The new depot also features a state-of-the art-training facility which provides a comprehensive range of IPAF operative, management and PAL+ training as well as PASMA, IOSH and supporting health and safety courses. Two fully-specified training rooms are able to run simultaneous training sessions, while a large outside training area is ideal for practical sessions and product demonstrations. The depot also features a 10,000 square foot indoor area which allows delegates to receive training on towers and indoor machines all year round regardless of weather conditions.
As well as a large yard, offices and meeting rooms, the depot boasts engineering facilities with four dedicated service bays, a fabrication bay and a repair bay.
Frank Sprott, regional director Scotland & North East at Nationwide Platforms, said, "We not only wanted a flagship site with office space for our growing team, but also a building that could allow us to meet our customers' needs. It was also important to expand our engineering facilities and our workshop gives our team great scope for the future."
Jeremy Fish, managing director of Nationwide Platforms, added, "The opening of this new depot highlights our continued investment in Scotland and the North East. It is an important region for us and one we are looking to strengthen. This depot will put us in a good position and has the capacity to match our growth, both in terms of fleet and training."