Overhead Street Crane for Dunlop Oil & Marine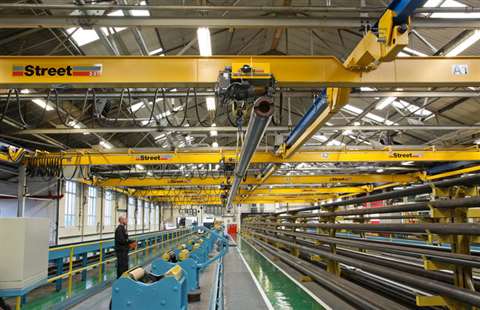 Hose manufacturer Dunlop Oil & Marine has installed two Street Crane triple girder cranes at its manufacturing facility.
The girder cranes have three 3.2 tonne capacity hoists and are used to load the mandrels onto the hose fabrication machines and to offload the completed product for transportation down the shop for de-moulding and testing, a spokesperson said. An additional 15 tonne, double girder crane has also been installed at the workshop with two hoists of 7.5 tonnes.
The cranes have ZX hoist technology and safety features that include cooler running and an easily accessible external brake, which operates directly on the primary gear shaft and is positioned away from the motor so that performance is not impaired by heat transfer. The cranes also have digital load display, overload protection, audible approach alarms, anti-collision protection and HBC radio remote controls, with a back-up pendant control.
Chris Lindley-Smith, Street Crane sales and marketing director, said, "The operation of overhead cranes is often closely linked to the manufacturing process but Dunlop Oil & Marine have taken the application of process cranes one stage further. These cranes will help the company achieve greater flexibility and responsiveness in their manufacturing operations and are designed for endurance to give maximum uptime."