Pittsburgh bridge collapse: Investigators to compare test results to original designs
By Neil Gerrard01 February 2023
Investigators from the US National Transportation Safety Board (NTSB) have nearly completed tests of materials on the collapsed Fern Hollow Bridge in Pittsburgh, US.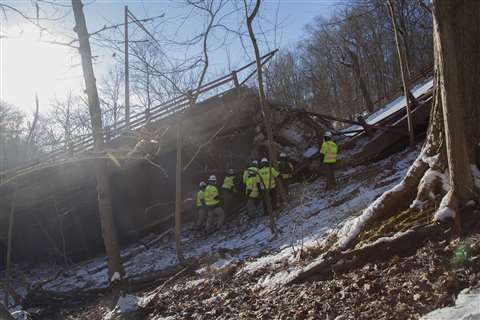 The bridge in Pittsburgh, Allegheny County, Pennsylvania, collapsed on 28 January 2022. The 447-foot-long (136m) structure fell 100 feet (30m) into a park below.
Four vehicles and an articulated bus were on the bridge when it failed, while a fifth vehicle drove off the east bridge abutment and landed on its roof. In total, ten people were injured.
The posted speed limit on the bridge was 35mph and the posted weight limit was 26 tons. NTSB investigators are now trying to determine the cause of the collapse. While they have not yet reached any conclusions, they have issued an update on their progress.
Investigators have carried out 3D scans of portions of the bridge's superstructure. They have also performed mechanical and metallurgical tests of bridge components, which are nearing completion.
Engineers also examined multiple fractures observed on the legs of the bridge following the collapse.
Once the tests are complete, the results will be compared to the material specifications in the bridge's original design plans.
Meanwhile, NTSB investigators and Federal Highway Administration (FHWA) engineers conducted inspections of ten steel frame bridges across Pennsylvania. The bridges all had designs similar to the K-frame design and uncoated weathering steel construction of the Fern Hollow Bridge.
NTSB has now opened a 19-item docket for the investigation, containing 2,137 pages of factual reports and other documents pertinent to the investigation.
It said in a statement, "The docket contains only factual information collected by NTSB investigators; no conclusions about the probable cause of the collapse should be drawn from the information within the docket."