Proposal for UK's largest road tunnel
By Thomas Allen10 October 2018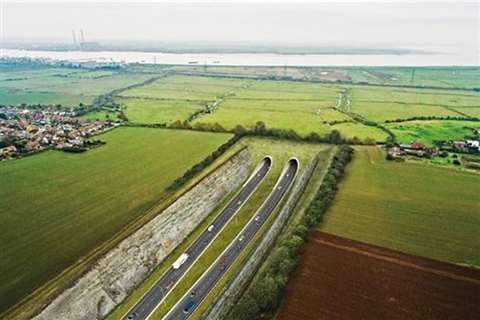 Highways England is consulting the public about its proposed Lower Thames Crossing, which would involve the creation of the UK's largest road tunnel.
The scheme, which would cost between £4.4 billion (€5 billion) and £6.2 billion (€7.1 billion), is intended to reduce congestion on the Dartford crossing – the only other way to cross the River Thames east of London – by connecting the counties of Kent and Essex via two four-kilometre tunnels running under the Thames, one for southbound and the other for northbound traffic.
The new route would almost double road capacity across the river east of London, according to Highways England, with forecasts suggesting that more than 27 million drivers would use it in its first year of operation.
Aside from the twin tunnel, the current proposal includes approximately 23km of new roads connecting the tunnel to the existing road network, three lanes in both directions with a maximum speed limit of 70mph, new structures such as bridges and viaducts, and a free-flow charging system that would allow drivers to pay remotely without the need to stop.
To watch a video about the proposal, click here.