Allison Transmission is inviting construction fleets and vehicle manufacturers to rethink the habitual specification of AMTs (automatic manual transmissions) in their vehicles and plant, and to experience the performance and TCO (total cost of ownership) benefits of fully automatic transmissions. Since growing its share of the US construction market from 54% to 70% in the seven years to 2018, the company is targeting similar results in Europe, where the value proposition in terms of durability, reliability, productivity and safety is just as strong.
"Allison has embarked on a determined effort to reach out to new vehicle manufacturers and fleet operators with demo events by construction sub-vocation," explains Sergio Camolese, director, market development, Europe. "We know from experience that when people try an Allison transmission in a dynamic test environment, it changes their perceptions about fully automatic transmissions."
To date, Allison's penetration of the European construction market has been strongest in cranes and mining vehicles, where durability and reliability are key. Generally speaking, only Allison transmissions are robust enough to be viable in the very severe duty trucks of 50 tonnes and over.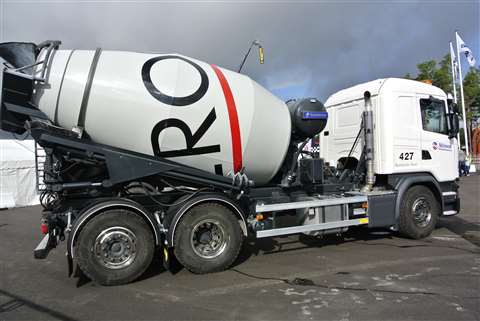 Allison has product releases with various OEMs headquartered in or supplying Europe, including Astra, Bell, Manitowoc, Renault, Scania, TATRA, Terex, Volvo, Volvo Construction Equipment and Wiesbauer.
Allison transmissions offer construction fleets numerous benefits, setting them apart from AMTs and manual transmissions:
- Superior start-ability
- Faster acceleration, resulting in higher average speeds and increased productivity
- Better on hills with 2nd Reverse and more control on steep grades, with virtually no rollback
- Improved manoeuvrability to creep in soft soil and navigate tight spaces
- Increased safety levels
- Unmatched reliability; designed for the toughest applications
- Lower operational costs and enhanced fuel economy
- Ease-of-use for driver training and retention
- Available with engine speed Power Take-Off (PTO)
These advantages respond directly to the priorities of the European construction sector, explains Atak Talas, segment manager of the Allison European Construction Initiative: "Our customer insight to date tells us that the market wants trucks that can provide reliability, performance and driveability, in that order. Allison AutomaticsTM are a very good fit for these demands, starting first and foremost with reliability. Our transmissions will not see customers losing money due to lost loads or agitators that are out of action. Allison transmissions increase acceleration and performance, resulting in productivity improvements and fuel savings. Their ability to work in the toughest of settings avoids the risk of trucks getting stuck and concrete loads and equipment lost to setting. They also enhance vehicle manoeuvrability and therefore safety."
Allison has a compelling offering for this sector because its transmissions can increase productivity significantly, thanks to its patented Continuous Power Technology™ and 2.0 torque converter ratio. They also offer a higher level of reliability and require almost no maintenance compared to manual transmissions or AMTs which use a dry clutch and not torque converter. Torque converters are vital in the most severe environments and can only be used with fully automatic transmissions.
Initially, Allison is focusing its efforts on the concrete mixer and pump and skip loader markets, where reliability, performance and driveability are all key factors. "We believe we can make a big difference in these areas because we can improve productivity significantly. Allison-equipped vehicles are also much easier – and therefore safer – to manoeuvre in tight urban environments as well as on loose and rugged ground. We know from our customers that this reduces driver stress, with knock-on effects for recruitment and retention," concludes Atak Talas.
For further information, please contact Ashley Brooks via Ashley.Brooks@allisontransmission.com or +44 1525 305124.