Solar-powered security, comms & power unit
By Leila Steed12 April 2019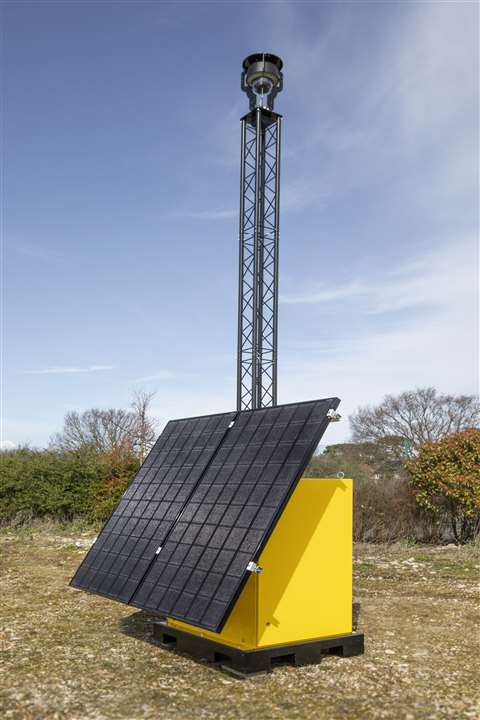 British technology company Sunstone Systems has unveiled a portable off-grid unit that can provide power, security and communications for temporary locations.
The Autonomous Remote Communications Unit (ARC) is designed to deliver 24 hour HD CCTV and enable wireless cellular or WiFi networks in areas with no existing infrastructure. Powered entirely by solar energy, the ARC unit comprises an integrated telescopic mast and a foldable solar array for ease of deployment and movement to other locations. The ARC also comes with site surveillance, which can include either PTZ or static cameras with virtual trip wires and exclusion zones.
Paul Schelhaas, CEO of Sunstone Systems, said, "What we have developed is a product that offers scalable site security, access to high-speed broadband from day one of a project and with zero-emissions or noise pollution, that can be installed and running in minutes. It was designed to keep people, products and property secure by vastly reducing costly and unplanned downtime - something all sites suffer with at some stage."
Designed for sites that require robust, flexible and cost-effective solutions for security and safety, the technology company said the unit puts an end to communication blackspots on site and reduces the costs associated with installing power and data cabling.
Sunstone Systems said the product could be installed and operational within one hour and added that each unit has incorporates anti-theft and vandalism measures, including built-in GPS. The company also said the units are 99% recyclable and can save over 500kg of carbon dioxide emissions compared to traditional diesel generator systems.
The ARC units also include an operational monitoring system, which alerts engineers to any potential problems.