Tailored by a drive for innovation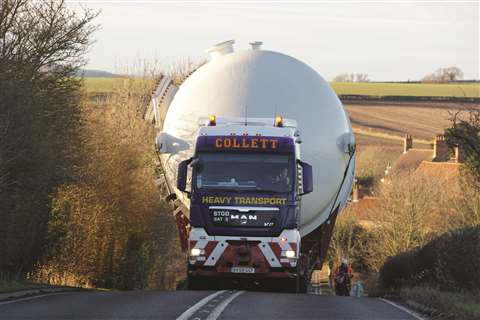 Canadian heavy haul trailer manufacturer Aspen has two new designs it is promoting in the North American market: the Aspen E-Series Transporter and the Aspen Dual Lane Transporter. The E-Series heavy haul transporter is available in capacities ranging from 55 tonnes (8 axles) to 85 tonnes (13 axles) and has a redesigned jeep that Aspen says is light but strong. It also has a hydraulic gooseneck that Aspen states can be put on and removed easily – even on uneven ground. Aspen claims the hydraulic system is easy to operate and that the main deck of the trailers can be easily reconfigured. It is also simple to swap and move around D-rings, chain pockets, cross chain tie downs, and swingout outriggers, Aspen adds. The E-Series includes Aspen's patented auto-shim design booster. The company says this helps users save time as the system shims automatically. These features allow heavy haul trucking companies to safely haul more payload in less time, Aspen claims.
The Dual Lane Transporter, the company says, offers heavy haul companies a configurable, efficient option for loads that are too large for a 13-axle trailer. It comprises a configurable set of lightweight dual lane jeeps, dual lane dollies, and double gooseneck decks. The Dual Lane Transporter can expand into two traffic lanes on the fly, without stopping and without drivers having to crawl underneath the loaded unit to expand the suspension or adjust steering components, says Aspen. These features allow heavy haul trucking companies to safely haul the maximum load regulations allow, with little downtime, Aspen states.
Tailored solutions
ALE used a Trojan truck to transport 110 pieces of cargo across Oman
Also focusing on the North American market is German manufacturer of heavy-duty road haulage and oversized cargo vehicles, Goldhofer. "We are looking closely at the regulations in place and the transport infrastructure in our export markets to ensure that our products meet the requirements of our various customers," says Stefan Kohler, regional director of sales, .
For the North American market, Goldhofer recently launched two new modules: the Goldhofer THP/DC dual-lane modular trailer and the STZ-P9 highway semitrailer. Goldhofer says the THP/DC was designed to meet the broad range of different vehicle registration requirements in the USA's individual states. From a basic width of
4,260 mm, the modules can be widened step by step up to a maximum of 6,100 mm while the vehicle is on the move and under load (maximum 24 tonne axle load at 40 km/h). This is done via a hydraulic system that is operated by remote control. The standard running height of 1,300 mm can also be adjusted by up to 700 mm. Goldhofer says that in many cases, flexible width adjustment avoids the need for escort vehicles, including police escorts, helping users save money.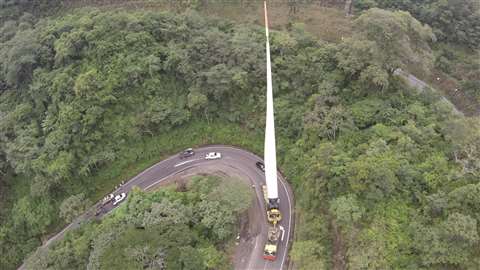 Goldhofer's FTV 300 was used to transport wind turbine rotor blades up the slope of a volcano in Guatemala, South America
The STZ P9 highway semitrailer is also tailored to the needs of the US transport industry, Goldhofer says. The vehicle has 3 x 3 twin-axle bogies with pendular axles and a maximum steering angle of 60 degrees for optimum manoeuvrability. It also has a low running height to help with loading and unloading a wide range of cargo. The axle spacing between the bogies can be adjusted to meet the various US regulations, while the rear bogie can be retracted under load for greater flexibility when negotiating tight bends and roundabouts. On completion of the manoeuvre, the tractor is used to return the vehicle to the original extension. Goldhofer says this means time savings and reduced transport costs, as just one tractor is needed for even the most challenging journeys.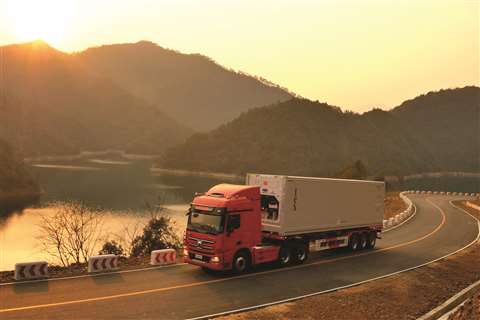 It's not just North America where Goldhofer says it is enjoying demand for its products. "At present, we are especially in demand in Europe, Asia and parts of South America," continues Kohler. "In Colombia, for example, an 800 tonne mining excavator was recently moved 25 kilometres over demanding terrain on a self-propelled Goldhofer PST side-by-side combination."
Wind turbine transport
The wind power industry is also keeping specialist transport companies busy. Goldhofer reports high demand for its products from this sector. For such operations, Goldhofer developed the FTV 300, a rotor blade adapter that allows the wind turbine's blade to be raised hydraulically up to an angle of 60 degrees.
In Guatemala, South America, the FTV 300 module was used to transport rotor blades up the slope of a volcano; in Germany lifting and transportation specialist Hofmann Autokrane used a PST 8-axle line module and an FTV 300 in April to manoeuvre the rotor blades for three wind turbines through a densely forested area without the need for any tree felling.
Heavy lift specialist Mammoet delivered the last wind turbine components for the extension of the Clyde Wind Farm situated near Abington, in Scotland. Energy supplier SSE is extending the existing 152 turbine wind farm with an additional 54 turbines. Mammoet was responsible for the transport of all the turbine components during the construction of the extension (which will be finished later in 2017). The company was tasked with transporting 584 components and 125 containers weighing up to 87 tonnes and with lengths up to 49 metres from the port of Glasgow to the site 60 km away. The last part of the route involved negotiating particularly complex terrain, says Mammoet, with inclines up to 14 percent over a 22-kilometre site road. For this Mammoet utilised 8x8 individual-wheel drive units to pull the trucks up the steep hills.
A similar set of terrain challenges faced Austrian special and heavy goods transportation company Felbermayr in a recent specialized transport job. It too is busy in the wind power sector and is erecting 13 wind power turbines for the Windpark Handalm project in Styria, Austria. The wind farm will produce renewable energy for approximately 21,000 households, making it the most powerful wind farm to date in Southern Austria.
In addition to the erection of the wind turbines, Felbermayr was tasked with transporting the components from the manufacturer's factory to their final location – a distance of approximately 1,300 km. To achieve this Felbermayr used blade trailers to transport the 39.5 m rotor blades, which weighed 9.6 tonnes. The tower segments, measuring 11.33 metres long and 4.4 m in diameter, were transported in a self-supporting fashion using tower lifters. And double-telescoping semi-trailers and semi-flatbed trailers were used in convoys of up to three vehicles to transport the system parts. Yet it was the mountains around the turbines' final destination that caused the biggest transportation challenges.
The wind farm is1,700 m above sea level on the Styrian Handalm pasture. A temporary road needed to be built up to the construction site but this couldn't be finished in time due to the weather. "We would have been ready to implement the lifting job in mid-April 2017," says Günther Wimmer from Felbermayr's project department. "However, due to persistent wintry conditions, the temporary road leading to the construction site could only be finished in early May." As a result Felbermayr had to store the wind turbine components at an interim storage site, namely its heavy-load port in Linz.
Once the road had been completed Felbermayr transported the wind turbine components to a transshipment site 1,400 m above sea level. From here they then had to be transported 2.35 km along a country road and then 2 km along a logging road. The last seven kilometres to the wind power construction site were via the temporary road. The roads comprised tight corners and gradients of up to 20 per cent, said Felbermayr. Using the blade lifter allowed the blades to be raised by 60 degrees, which made it possible to negotiate the tight, tree-lined corners. Eight heavy haulage axles, pushed and pulled by two heavy haulage tractor units, were used to provide the required weight distribution and traction to transport the components across this difficult terrain. Felbermayr says it expects to finish the work this summer.
UK-based heavy transport and lifting specialist ALE reports that its busiest markets for moving oversize and overweight loads are the wind and power generation sectors. It says it is also seeing a lot of oversized and overweight cargo moves taking place in the Middle East region. In Oman, for example, ALE is using one of its Trojan trucks to transport 110 pieces of over-dimensional and heavylift cargo, weighing up to 390 tonnes. The Trojan enables multiple tractor units to be linked in a command and drone convoy. The command vehicle controls not only itself but all tractors in the convoy. Using the Trojan, the cargo is being transported 640 km on what ALE describes as 'a challenging route' from the Port of Duqm to the new IBRI IPP power plant project site in Ibri, Oman.
Yasser Al Yasin, ALE's country manager in Oman, said, "We had seen a great start to the project, with all pieces being delivered safely and on schedule. We are facing challenges that we have had to negotiate, such as complying with the authorities to gain special permissions so that two items are transported per convoy to avoid delays to the overall schedule. And the limited storage at the port has meant that we have had to find a mutually beneficial solution to tranship the cargo to our yard in Duqm to resolve port congestion.
"Furthermore, at 9.5 m wide and over 75 tonnes, the sheer size and scale of the pieces means that we have had to build a 2 km bypass route to avoid certain bridges and work cooperatively with the Royal Oman Police to deploy extra police escorts to minimise disruption to road traffic and members of the public."
Investments in equipment
ALE says that, over the last year, it has invested in multiple trailers and transport equipment with the latest technologies.
For example, it took delivery of 240 of Scheuerle's new generation self propelled modular transporter (SPMT) axle lines. With 60 tonnes capacity per line, ALE says these are the world's highest capacity SPMT.
It also purchased two new fleets of widening trailers. One fleet was for ALE's South African branches. These trailers can be mechanically widened 3 m to get the maximum stability and footprint for travelling long distances safely with severe road cambers, says ALE. Its other fleet of widening trailers was for the UK and can be widened to 4.3 m while loaded. ALE says these are proving to be a favourable solution for bridge owners and local authorities as the wider distribution of axle weight and gross load over the structure will result in less stress on the bridge and bearings.
ALE also bought two six-axle units of Goldhofer ADDrive SPT, complete with power packs, which will be used in Kazakhstan to primarily service the Caspian region. "We decided to go for the ADDrive system because of the combination of cutting-edge technology and high-grade materials for the components," comments Ronald Hoefmans, ALE group technical director. "Their unique ability to tow a SPT at high speed will be extremely beneficial to our work in the Caspian region and potentially other ALE regional branches."
Another UK specialist transport company, Collett Transport, has also been busy in the wind and power sectors. Earlier in 2017 it moved a 180 tonne transformer for an onshore substation serving the Galloper Offshore Wind Farm, off the coast of Suffolk, UK. Another large project Collett conducted in the UK was to transport a 28-metre-long, 140 tonne de-aerator vessel 112 miles (180 km)from the factory where it was built to the Port of Immingham.
To meet increasing demand for specialized transport jobs, Collett has also been investing in equipment. It has added two new Faymonville trailers to its fleet: one two-axle Megamax and one three-axle Multimax. Collett reports that the two-axle Megamax semi-trailer has a low transport deck, making it suitable for transporting tall loads or skid loading industrial parts or machines directly from the floor. Furthermore, Collett says that the hydraulic stub axles of the short wheel base trailer allow the steering angle to be altered up to 45°. This enables access to tight areas and hard to get to sites. In its closed state the trailer bed is 6.65 m but it can be extended to 12.20 m to accommodate lengthy cargo while maintaining optimum manoeuvrability. This trailer has a light tare weight, says Collett, which offers a carrying capacity of 40 tonnes.
According to Collet, its three-axle Faymonville Multimax has a technical carrying capacity of up to 52 tonnes. Other features include hydraulic axles and knuckle steering, making it suitable for a wide range of transport requirements. The trailer is a stepframe type of steel construction, being 13.5 m long when in its closed state but it can be extended to a length of 27 m. As such, Collet says it is suitable for particularly lengthy cargo.