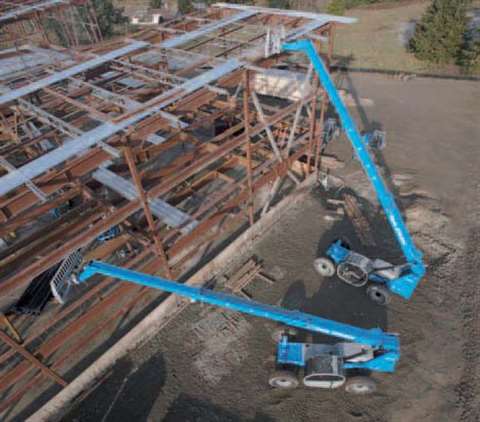 Stepping into Bob Wilkerson's shoes at Genie Industries can't be the easiest thing to do. Tim Ford, appointed by Terex in October to do just that, is replacing Genie's leader for the past 35 years and someone who had become synonymous with the company.
Ford understands the challenge it represents both for him and the company. "We' re not very good at leadership change at Genie, because we' ve never had one," Ford says. "Bob has in many ways been the face of Genie, and I' m aware of that and its significance…It's a big deal, but there is also a certain readiness for 'what's next?'"
The ex–Toro Company executive vice president, chosen after a lengthy search by Genie, at least seems temperamentally suited to the task. He describes himself as "a pretty competitive guy," which is probably an understatement when you consider that on his departure from Toro at the age of just 44 he was responsible for two–thirds of the company's $1.8 billion business.
He joined Toro in August 2001 from Honeywell, where he ran its service division for building controls, although cut his business teeth at General Electric where he spent 13 years in a variety of roles, including sales, product management (for lighting) and corporate finance.
The Toro experience, however, will serve him well in the highly competitive world of aerial platforms. He tells ALH that with Toro he enjoyed championing a culture where "we not only won the order, but also beat the competition." Of his time at the groundcare equipment manufacturer, he says he is most proud of growing its share of the North American golf course market from 37% to almost 50% in the five years to 2006. Competitive indeed.
Speaking to ALH a matter of weeks into his new appointment – and still working closely along side Bob Wilkerson – it is unfair to expect too much detail about his plans for the business. What he does say, however, signals a desire to see Genie focus more on its international opportunities.
He says his main priority is to equip Genie for further global growth and to exploit opportunities for expansion outside the US. "We' ve had extraordinary growth," he says. "I want to make sure our organization is able to handle that growth. Letting the organization catch up…is an important point for the next six to 12 months."
This will include a focus on the "robustness" of Genie's internal processes and further consideration of the allocation of personnel and production capacity worldwide. He says, "I see opportunities for us to look beyond the US and be a bigger player in the world."
Ford confirms, for example, that production of self–propelled Genie booms – the Z–45 and European Z–51 – will start in Italy next year, and possibly also European production of scissors. Preparations for this started well–before his appointment, of course.
Ford has meanwhile been immersing himself in the Genie business. Toro had some sales to rental companies – less than 10% – but nothing compared to Genie. He has spent a lot of time with Wilkerson, whom he describes as a mentor, and who has been "drip feeding" him with background on the market. "Being new in this industry, the thing I definitely need more than anything else is context and perspective," Ford says.
The new job will also generate a lot of airmiles for Ford – his official office will be Terex's headquarters in Connecticut, but he tells ALH that much of the next six to nine months will be spent at Genie's Redmond base on the West Coast.
Wherever he is, it's a big job. Joining Genie at the top of the aerials market, he will be piloting the company through a period of change, as the US market cools down and the rest of the world catches up. It's a new era at Genie. As Ford says, what's next?