Wacker goes cordless with concrete vibrator
By Leila Steed19 November 2019
Wacker Neuson has launched a new cordless internal vibrator system for concrete consolidation.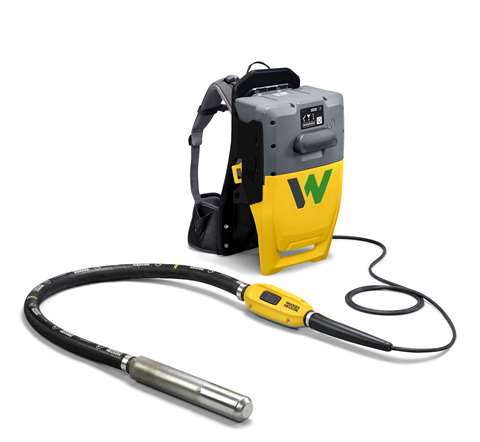 Designed in the form of a backpack and incorporating a replaceable battery converter system, the battery-powered internal vibrator unit allows operators to walk around freely without a power cable, enabling them to work more quickly and easily.
According to the manufacturer, the battery-powered device offers zero emissions and eliminates the safety hazards associated with cabled equipment, which must often be repeatedly plugged in and out of different power sockets in order to reach around larger sites or when working on scaffolding or formwork.
For greater comfort, the backpack's weight is evenly distributed and it has padded shoulder and hip straps. Also, its converter is said to guarantee a protective low voltage of 34V.
Stefan Pfetsch, Managing Director of Wacker Neuson Produktion, said, "With the battery-powered internal vibrator system, we have now developed a world's first. We are the only provider on the market to offer a battery backpack with a replaceable battery."
The battery-internal vibrator system, which was previewed at Bauma in Germany earlier this year, comprises a lithium-ion battery that is compatible with six other zero-emissions products from Wacker Neuson.
"Our customers can therefore use the same battery for other construction equipment from our product portfolio as well or continue working with a second battery while the first one charges," added Pfetsch.
"We are offering our customers a very flexible and convenient solution for concrete consolidation as a supplement to our existing portfolio."
Designed for harsh conditions, the unit provides enough power to last for an average workday.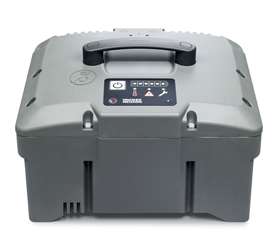 The system's modular design also means that different vibrator head sizes and protection hoses can be connected to the battery backpack. Hose lengths of 1.5, 3 and 5m and vibrator heads of 38, 45 and 59mm in diameter are currently available.
The company said the low space requirement of the system and lower investment costs would allow rental companies to keep an entire range of vibrator head and hose sizes available, enabling them to offer a variety of solutions for customers' needs.