Wheeled loader economy drive
By Chris Sleight02 September 2014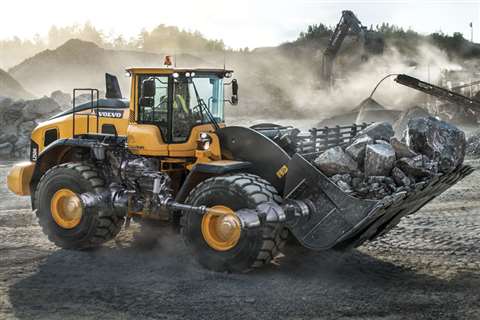 More and more of the wheeled loaders being sold in Europe, Japan and North America are now fitted with a new generation of low emission engines. Stage IV (Europe) and Tier 4 (US, Canada and Japan) requirements started to come into force last year.
It takes time after the implementation date for these new engine machines to reach the market. Manufacturers are allowed various flexibility provisions to use up stocks of older engines as well as sell other 'old Tier' machines once the new laws have come in. But as time goes on these machines work their way through the system, and more and more Tier 4/Stage IV loaders find their way to construction sites.
Many other parts of the world also have emissions regulations that apply to wheeled loaders and other off-highway equipment for construction, mining and agriculture. At present the most stringent of these is the equivalent to the older Stage IIIA/Tier 3 laws. And of course there are many parts of the world where there are no emissions regulations at all.
The main reason lesser regulated countries have stopped at Tier 3 levels is that above this fuel quality becomes a critical issue. The various aftertreatment systems used to achieve Stage IIIB/Tier 4 Interim and Stage IV/Tier 4 Final require ultra low sulphur diesel – about 10 or 15 parts per million(ppm) of sulphur. Any higher than this and exhaust after treatment systems like diesel particulate filters (DPFs) and selective catalytic reduction systems (SCR) get clogged with soot, and the engine will overheat.
So until ultra low sulphur diesel is widely available in emerging markets, these countries will likely stay at Tier 3 emissions levels at best, even though many governments have a desire to make regulations more stringent.
Parallel development
This divergence of developed and emerging markets has had an impact on the models manufacturers produce. Wheeled loader makers that want to be global now have to produce at least two ranges – a Tier 4 model for developed markets and a Tier 3 model for lesser regulated countries. Some would also argue the need for a 'Tier 0' machine, as in many countries a Tier 3 model would be over-sophisticated (uncompetitively priced) and perhaps unreliable as well due to fuel quality issues and the tight tolerances inherrent in Tier 3 engines.
What is interesting is that manufacturers are taking the opportunity to design loaders with features specifically designed for emerging markets, rather than just taking a previous year's European or US model with a lower Tier engine.
One example of this comes from the fact that many emerging markets are in tropical or equatorial regions, so there is often a need for more serious engine cooling, air filtering and air conditioning.
Meanwhile in developed markets, all the technology that has been added to engines to reduce emissions has of course pushed up purchase prices. In order to help make this more palatable to their customers, loader manufacturers have been looking at ways of improving fuel efficiency and cut other running costs on new models.
For example, Volvo's new L250H wheeled loader, a Tier 4 Final machine, is claimed to offer 18% better fuel economy than predecessor models thanks to the company's Optishift transmission system.
This covers several technologies, one of which is called Reverse By Braking (RBB). In short cycles, operators tend to switch rapidly between forward and reverse movements, and this means the loader tends to be slowed down by the torque converter, rather than the brakes. This is less efficient than using the brakes and also strains the transmission. RBB gets round this by automatically applying the service brake, even though the operator might be using the machine in the same way with the forward/reverse lever.
In a similar class to the 35 tonne operating weight L250H are Caterpillars new 980M and 982M wheeled loaders, which weigh in at 34 and 36 tonnes respectively. Again, fuel efficiency improvements on these Tier 4 Final machines are a key feature, and Caterpillar says that by integrating the various components more deeply and improving efficiency in the hydraulics it has eked out a 10% fuel consumption saving compared to the equivalent K-series models.
Further down the weight categories, Cat's 26 tonne 966M and 972M Tier 4 Final loaders are available with its XE advanced powertrain, which offers even bigger fuel savings. The standard M-series versions are said to consume -10% less fuel than their predecessors, but the XE technology is said to deliver -25% lower fuel consumption on average compared to machines with traditional torque converters. Caterpillar says this means they offer the best fuel efficiency in their class.
The XE system works by having a hydrostatic and mechanical transmission in parallel, with the two outputs combined using a planetary gearbox. The hydrostatic system tends to be used a low speeds, where mechanical systems are inefficient, but as the machine gets moving the mechanical system takes over more is it reaches its sweet spot.
This is all invisible to the operator, who just drives. In fact, the operating experience should be better, as this type of continuously variable transmission (CVT) smoothes out gear changes.
Komatsu's new additions to its range meanwhile have been further down the weight categories, where the requirements can be different. Unlike heavier loaders for pure production applications, models like the new 11.8 tonne WA200-7 from Komatsu America and 15.3 tonne WA320-7 in Europe can find themselves in a variety of applications.
So as opposed to the Z-bar linkage found on heavier machines, these smaller loaders feature Komatsu's parallel Z-bar, which still provides high breakout forces, but which can also parallel lift for fork and pallet jobs.
Both machines are fitted with Tier 4 Interim/Stage IIIB engines. On the WA320-7, this makes for -10% less fuel consumption and +12% more torque than on the predecessor model, the WA320-6.
Some of the fuel savings are due to Komatsu's Smart Loader Logic system, which automatically matches the engine torque and revs to the loads being placed on the machine's systems. This means fuel is not wasted but performance is not sacrificed.
At 11 to 12.4 tonnes operating weight, Hitachi's new ZW140-5 and ZW150-5 loaders are in a similar bracket. These machines claim a huge -20% reduction in fuel consumption over previous models thanks to the use of a hydrostatic transmission (HST), and a display in the cab also helps by telling the operator when the machine is being used at its most economical.
Auto engine shutdown is available as an option, and this prevents unnecessary fuel use by stopping the engine after the machine has stood in neutral with the parking brake on for a minute.
Likewise, Liebherr's latest mid-sized wheeled loaders feature a hydrostatic drive, which the company says contributes to a -25% reduction in fuel consumption. The L 542, L 556 and L 580 cover the 8.7 to 13.2 tonne weight categories and feature Tier 4 Interim/Stage IIIB engines.
Another interesting feature is with the use of a hydraulic, rather than mechanical driveline, there is more design flexibility. This has allowed Liebherr to mount the engine transversely across the machine, which it says makes for a more compact layout and easier day-today maintenance
The loaders are available with either a Z-bar linkage or parallel lift arms, and Liebherr says it is the only manufacturer to offer either configuration at no extra cost.
Lower fuel costs for the owner are also a big theme for JCB, as illustrated by the range-topping 457 wheeled loader the company previewed at June's Hillhead quarrying exhibition in the UK.
JCB will use MTU engines in the Stage IV/Tier 4 Final version of the loader, and the company says one of the reasons for going with this supplier is that MTU has achieved this emissions compliance for the 19 tonne machine without the use of a DPF in the exhaust aftertreatment system. The 193 kW engine is said to contribute to a 16% overall fuel saving on the 457, compared to the previous model.
The new loader will also feature JCB's next generation Command Plus cab, which improves comfort and the general working environment for the operator.
John Deere meanwhile used March's ConExpo exhibition in Las Vegas, US to unveil three models from its K-series wheeled loader range which now meet Tier 4 Final emissions standards. Powered by its own PowerTech engines, the 624K, 644K and 724K also come with other upgrades and improvements.
For example, improvements to the axles include oil cooling and filtration, along with brake retractors and adjustors on the Teammate V axles. This keeps axle oil and its components cooler in hard braking and heavy duty load-and carry applications.
The company added that the five-speed lockup torque converter transmission helped cut fuel consumption by -5% to -8%. This feature connects the entire drivetrain directly to the engine to provide full engine power during transport, ramp climbing and downhill conditions, eliminating wasted energy.
The ConExpo show also saw Case unveil its new Tier 4 Final-compliant 821F and 921F wheeled loaders, which use only SCR to achieve emissions compliance.
Case says the 158 kW and 180 kW machines deliver as much as a 10% improvement in fuel economy over the previous E Series models. The company added that savings of up to 30% with the automatic engine shutdown feature. A further optional efficiency package includes a five-speed lockup transmission, axles with auto-locking differential and advanced system programming.
More options
As demanding and expensive as the string of engine regulations have been for manufacturers, they have not discouraged new entrants into the European and North American wheeled loader markets. Many of China's leading wheeled loader manufacturers have these territories in their sights as part of their internationalisation strategies, and that ultimately means more choice for equipment buyers.
For example, SDLG, which is majority-owned by Volvo has launched new wheeled loaders in North America this year. The LG948L lies in what the company describes as the most coveted capacity class for the region, with a 3.0 yd³ (2.29 m3) bucket capacity.
SDLG says its machines are aimed at customers that don't need the features of premium-priced machines, or those that might have purchased a used loader.
The LG948L is powered by a 173 hp (129 kW) Deutz engine, and features a ZF transmission. It comes with a hydraulic quick coupler and 12 month/1,500 hour warranty as standard.
More to come
China is the world's biggest construction equipment market and its appetite for wheeled loaders is disproportionately large. Specialist consultant Off-Highway Research puts the Chinese wheeled loader demand at more than 140,000 machines per year – about seven to eight times the size of the North America loader sector, for example, even though the Chinese equipment market as a whole is only about twice the size of North America's.
So with the Bauma China exhibition coming up this November in Shanghai, China, there should be plenty of new wheeled loaders to see. These might not just be limited to models for China and other emerging markets, but could also include machines for highly regulated territories like Europe and North America.